Mallya Denies Misuse of Loans as India Turns Up Heat on Dues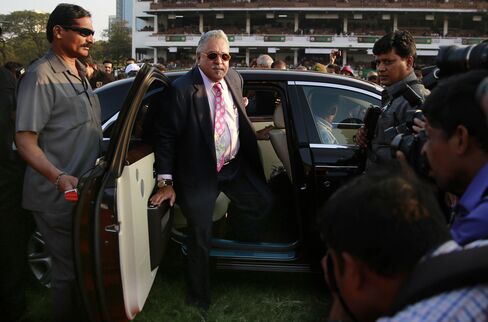 Mallya's diplomatic passport suspended for four weeks

Foreign ministry acted on advice of investigating agency
Vijay Mallya, the tycoon at the center of India's battle to recover soured debt, denied allegations he misused loans and termed an arrest warrant "unjustified" as the government ratcheted up pressure on him to return to the country by suspending his passport.
A statement from his UB Group late Sunday "strenuously denied" charges made by India's Enforcement Directorate that 4.3 billion rupees ($65 million) were transferred overseas to acquire property. The Enforcement Directorate is a specialized financial investigation agency focused on foreign exchange and anti-money laundering laws, according to its website.
"We are shocked at the allegation," the group said in the statement. "Multiple investigations have been going on since July 2015 and this allegation has never been made." It said all foreign-exchange transactions, including borrowed funds, were used for "legitimate business purposes only."
The nation's foreign ministry said April 15 that the founder of the collapsed Kingfisher Airlines Ltd. has a week to respond to why his diplomatic passport shouldn't be impounded or revoked, after suspending it for four weeks. The indebted ex-billionaire, who has sparred with local media for portraying him as the poster boy for bad loans, owes about $1.4 billion, according to the government.
Declare Assets
India's Supreme Court has told him to declare all his assets by April 21 after a group of lenders turned down his proposal to repay as much as $900 million. The banks have sought the entire amount due, including interest.
Mallya said earlier this year that he planned to spend more time in England to be closer to his children, and the Attorney General told India's Supreme Court in March that the tycoon had left the country. A group of creditors had sought to prevent his departure.
Opposition parties have attacked Prime Minister Narendra Modi's government over the case, given that officials are trying to clean up India's worst bad-debt pile up in more than a decade. The government may face renewed criticism when the legislature convenes again starting April 25. Parliamentary disruption has made it challenging for Modi to pass a landmark tax reform in recent months.
"The government is tightening the noose on Mallya for a debt cleanup," said Nilesh Dedhia, director at NTD Trading Ltd. in Mumbai.
Diplomatic Papers
Vikas Swarup, a spokesman at the foreign ministry, said the ministry acted on the advice of the Enforcement Directorate, whose Director Karnal Singh didn't respond to two mobile-phone text messages on Sunday seeking more details. Mallya has diplomatic papers because he's a member of the Indian parliament's upper house.
Sumanto Bhattacharya, a spokesman for Mallya and the UB Group, said he didn't immediately know of the tycoon's whereabouts.
Mallya, who has maintained Kingfisher Airlines was an "unfortunate commercial failure" caused by macroeconomic factors and government policies, has previously said he didn't flee from India and isn't an absconder. United Breweries Holdings Ltd. is the parent of Kingfisher Airlines.
"In order to explain foreign-exchange remittances, all of which have been fully accounted for, we will provide full details in the next few days," according to the statement from UB Group. "Suffice it to say that the basis of seeking a non-bailable warrant against our chairman is erroneous and unjustified."
Before it's here, it's on the Bloomberg Terminal.
LEARN MORE