CIMB's Nazir Takes Leave Amid Audit of Political Fund Transfers
Bank chairman helped distribute funds to politicians in 2013

Nazir is brother of Malaysian Prime Minister Najib Razak
CIMB Group Holdings Bhd. said its Chairman Nazir Razak is taking a leave of absence as the Malaysian lender reviews his role in distributing funds to politicians before elections three years ago. The stock slumped the most in seven months.
Nazir confirmed to reporters on Monday a report in the Wall Street Journal that he helped his brother Prime Minister Najib Razak disburse funds to ruling party politicians. Ernst & Young LLP will conduct an audit into Nazir's banking activities, which will be completed in a few weeks, CIMB's Chief Executive Officer Tengku Zafrul Abdul Aziz said at the same press conference, which followed the firm's annual shareholder meeting.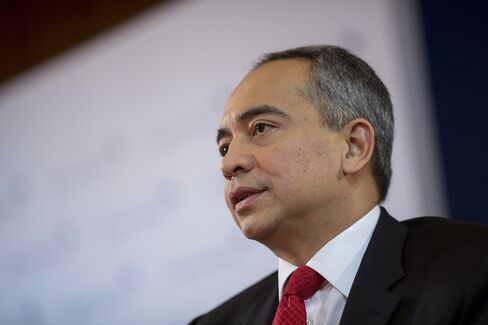 The Wall Street Journal reported last month that Nazir received about $7 million from Najib's accounts ahead of elections in 2013 and passed the money on to politicians in the ruling party. The report contained a statement from Nazir saying that the money that entered his account was distributed in accordance with instructions from party leaders and that he believed the money came from donations he helped solicit from Malaysian companies and individuals.
"I'm very clear that what I did was legal," Nazir said on Monday. "There was no absolute breach of law and no compromise of my position."
The New Straits Times reported Nazir's leave of absence earlier, which helped CIMB shares extend their declines during trading in Kuala Lumpur. The stock slumped 4.2 percent, the most since Sept. 21, as of 2:43 p.m. local time, compared with the benchmark index's 0.9 percent drop.
Najib is facing his biggest political crisis since coming to power seven years ago amid questions over $681 million that appeared in his accounts before the 2013 election, which the ruling coalition, in power since 1957, won with its slimmest margin yet. Attorney General Mohamed Apandi Ali said the money was a personal donation from the Saudi royal family, and that Najib later returned $620 million.
Saudi Arabia said last week a large donation to Najib was "genuine." Saudi authorities were aware of the donation and it came without strings, Malaysia's official news agency Bernama reported, citing Saudi Foreign Minister Adel Al-Jubeir. Najib has denied any wrongdoing over the donation.
Ernst & Young declined to comment.
Before it's here, it's on the Bloomberg Terminal.
LEARN MORE