CaixaBank Falls on Concerns It May Raise Capital for BPI Bid
The Spanish lender offers $1 billion for stake it doesn't own

Pact with Angola's dos Santos dropped after talks on Sunday
CaixaBank SA dropped the most in a month Monday after it offered to buy the part of Banco BPI SA it doesn't already own for about 908 million euros ($1 billion), raising concerns that it may have to tap investors.
CaixaBank, which controls 44 percent of BPI, offered 1.11 euros in cash per share for the rest, the company said in a statement Monday. The stock was declined as much as 4.9 percent in Madrid trading and was down 3.9 percent as of 3:34 p.m., the worst performer on the Ibex 35 index.
"The offer makes sense for CaixaBank since it had to do something with its stake in BPI," said Daragh Quinn, an analyst at Keefe Bruyette & Woods, by phone. "To maintain the capital ratio above 11 percent the bank could decide to raise capital and shares are down on that concern."
CaixaBank Chief Executive Officer Gonzalo Gortazar said the transaction, if successful, will take the bank below its capital-ratio targets "so we will need to take proper actions to offset that." The bank will analyze all alternatives and nothing can be discounted, he said on a conference call Monday, adding that the effect on capital will depend on how many BPI shareholders accept the offer.
CaixaBank has been seeking to break a deadlock with Isabel dos Santos, whose investment company Santoro Finance last year blocked the lender's 1.1 billion-euro offer to buy the remainder of BPI by opposing a change to voting rights. While the Portuguese lender is facing a request from the European Central Bank to reduce its exposure to Angola, negotiations between BPI's two largest shareholders collapsed on Sunday.
"We see this as the best solution available after Santoro's blockade, but the impact in capital is high, as there is no direct solution on the Angolan bank," Alfredo Alonso, an analyst at Kepler Cheuvreux SA with a buy rating on CaixaBank, said in a research note Monday. The offer seems aggressive because of its low price, he said.
The deal is subject to CaixaBank, Spain's third-largest lender, winning approval from shareholders representing more than 50 percent of BPI's stock after the bid. They must also agree to scrap a 20 percent limit on voting rights for investors that scuppered the previous deal.
The Portuguese government approved a change to voting rules that require investors to periodically review their restrictions, Prime Minister Antonio Costa said Monday. The changes will take effect in July.
Dos Santos, daughter of Angolan President Jose Eduardo dos Santos, owns 18.6 percent of BPI through Santoro and another 2.3 percent through Angolan bank Banco BIC SA.
"We believe this is a low-risk extension for us from Spain to Portugal," Gortazar said. "It's the first international acquisition that we've done, but we know BPI very well and we trust them."
While the current price is below last year's offer, its "fair" given that bank stocks in Europe have declined since the original bid last year, Gortazar said. The STOXX Europe 600 Banks Price Index has declined 30 percent in the last 12 months.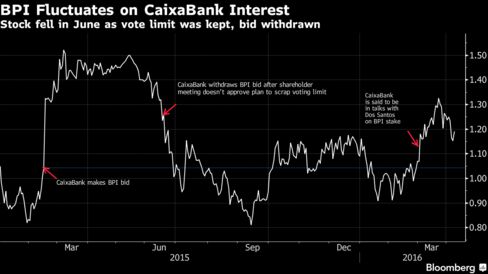 CaixaBank has asked the ECB to suspend any action against BPI over its Angola holdings to give it more time to find a solution, Gortazar said. He is hopeful the ECB will agree on suspending the actions, he said. The transaction should close in the third quarter, CaixaBank said.
(An earlier version of this story was corrected to change value of offer.)
Before it's here, it's on the Bloomberg Terminal.
LEARN MORE