Junk Bond Freeze That Gripped Norway Reveals First Signs of Thaw
First new issuance for 2016 may come as soon as this month

Rig and supply companies unlikely to see turnaround just yet
The Norwegian junk bond market is again showing signs of life.
Oil is back above $40 a barrel and European corporate credit spreads have narrowed. According to Lars Kirkeby, chief credit analyst at Nordea Markets, the improving conditions may mean the first new high-yield issuance is imminent.
"We think there will be some new high-yield loans this month," Kirkeby said by phone on Thursday. "It seems like that, based on talks we've noticed. It can happen."
The high-yield market of western Europe's biggest oil producer has been frozen since November, when Brent crude was on a declining path headed below $30 a barrel. But after eight months of withdrawals through February, buyers are returning and fund outflows slowing, according to Kirkeby.
Spreads on bonds from companies such as Aker ASA, Aker Solutions ASA and Stolt-Nielsen Ltd have narrowed. At the same time, Norwegian Air Shuttle ASA's tapping of a 2017 unsecured bond and Songa Offshore SE's issue of a convertible note earlier this month all point to a thaw.
"It's possible to place a high yield loan for a company with a good outlook," Kirkeby said.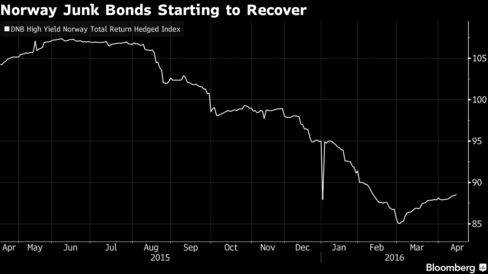 The DNB High Yield Total Return Hedged Index has risen 4 percent from a low on March 2, raising hopes that the recovery will continue. That will provide some relief for bond investors who have been swamped with restructuring proposals.
"The managers use a lot of time on this. Many will be in trench mood," Kirkeby said. "There are many discussions going on between bondholders, issuers and banks."
But an improved outlook for high-yield debt may not feed across to all sectors as rig and oil service supply companies continue to struggle with financing. The trailing 12-month corporate high yield oil and gas default rate rose to 23 percent in March, according to a Stamdata report.
"For both rig and supply it's a black night," he said. "It's still very tough with ongoing restructurings -- there will be more."
Before it's here, it's on the Bloomberg Terminal.
LEARN MORE