Greek Minister Reaches Out to Lagarde as Bailout Talks Drag
Creditors said to consider measures if Greece misses targets

France says Greece must implement measures in July accord
Greece's finance minister arranged a last-minute follow-up meeting with International Monetary Fund Managing Director Christine Lagarde before returning to Athens from a gathering of global policy makers in Washington, as the nation seeks to unlock more bailout funds from creditors.
The creditors are considering proposing additional austerity measures that would kick in if the nation missed budget targets, according to a European official familiar with the talks who asked not to be identified. The potential plan is part of efforts to conclude the current round of talks with Greece amid differences between Europe and the IMF, which is reviewing whether to join the latest program and is skeptical that Greece will be able to achieve the fiscal goals.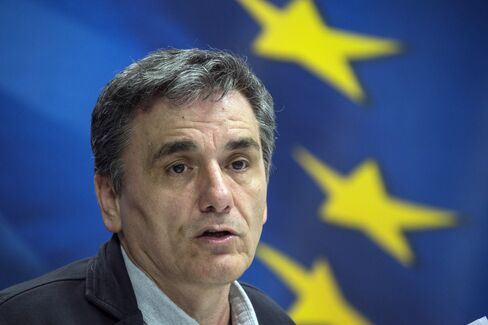 "There will be lots of proposals on the table as we reach the final meeting," Greek Finance Minister Euclid Tsakalotos told reporters Saturday following the Lagarde meeting. Tsakalotos canceled a scheduled press briefing to meet for a second straight day with Lagarde. The minister requested the meeting to clarify the IMF's position amid a fluid situation, according to a Greek government official who asked not to be identified.
The IMF and European policy makers are at odds over Greece's ability to meet the budget surplus target set under an 86-billion-euro ($97 billion) bailout by euro-area governments, who are reviewing whether to release the loan's second installment. Under the EU program, Greece is committed to posting a fiscal surplus before interest payments of 3.5 percent of gross domestic product within two years. The nation is reluctant to commit to any more austerity steps.
Tsakalotos said Saturday that the "general direction" is toward resolving the issue by April 22, when euro-area finance ministers meet. Greece aims to reach an accord with staff-level officials from the European Commission, the European Central Bank, the European Stability Mechanism and the IMF by then, Tsakalotos said earlier this month.
July Accord
"What is being asked is that what was agreed last July is implemented," French Finance Minister Michel Sapin said in an interview on the sidelines of the IMF's spring meetings in Washington, where the world's central bankers and finance ministers were gathered.
The Wall Street Journal reported earlier on the potential contingency measures for Greece, which would be as large as 3 billion euros.
Lagarde said at a press briefing earlier in the day that "there's plenty of work to do, so don't expect an immediate outcome, because things take time."
"But certainly we are of the view that it has to move, and to proceed promptly and efficiently," Lagarde said. "But our position in respect of the Greek economic sustainability and stability has not changed." She reiterated several times this week the IMF position that Greece needs to follow through on reforms, and Europe needs to provide debt relief.
German Finance Minister Wolfgang Schaeuble told reporters on Saturday that "everyone says Greece needs to do more and can do more." The IMF's involvement is part of the program and must be financial, he said.
Poul Thomsen, director of the IMF's European Department, said Friday that while the fiscal targets envisaged in Greece's bailout program aren't credible and the fund's position on debt relief hasn't changed, he's still hopeful that the review can be completed soon. Greece needs to lower its tax-free threshold, broaden the tax base and complement fiscal adjustment with structural reforms, he told reporters.
Greece's government aims to get the creditors to endorse changes to pensions, taxation and management of non-performing loans. The review will conclude without the need for additional measures because that was the deal with creditors agreed last July, Prime Minister Alexis Tsipras told lawmakers in Athens on Friday.
Before it's here, it's on the Bloomberg Terminal.
LEARN MORE