SunEdison Said Near Bankruptcy, Multiple Possible Outcomes Seen
Company may file for bankruptcy protection as soon as Sunday

`The company doesn't come out looking precisely the same'
SunEdison Inc. is preparing to file for bankruptcy protection, according to a person familiar with the matter. The move would confirm what the industry has been expecting for months.
The company, the world's biggest clean-energy business, may file in New York as early as Sunday, according to the person. SunEdison has arranged with first- and second-lien lenders for financing to carry it through bankruptcy reorganization, said the person, who asked not to be identified because the situation is private.
Ben Harborne, a SunEdison spokesman, declined to comment.
The company provided a glimpse into its financial status in a regulatory filing Friday, including that it's pursuing debtor-in-possession, or DIP, loans from creditors. There were few details about what the end result will be, and most of the information that was made public in the Friday filing was from a presentation to creditors almost a month ago.
One thing is clear: after a buying binge that spanned six continents and led to $11.7 billion in debt as of Sept. 30, a potential Chapter 11 bankruptcy filing means SunEdison is facing an overhaul.
"The company doesn't come out looking precisely the same from bankruptcy," said Charles Elson, director of the John L. Weinberg Center for Corporate Governance at the University of Delaware. "That's what a restructuring is."
Shares of SunEdison have plunged 99 percent since July after investors began to question its strategy.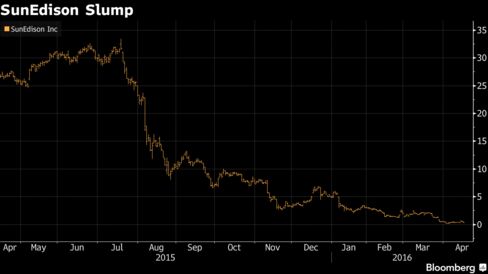 The company said in the Friday filing that it needs about $310 million to fund operations through the middle of the year. Restructuring financing or DIP loans may give its creditors control over a potential bankruptcy process.
The DIP financing could lead to at least two different outcomes, said Gordon Johnson, an analyst at Axiom Capital Management. If the first-lien lenders, mainly banks, take the lead, they may try to sell off assets at "fire-sale" prices so they can be made whole faster. Second-lien lenders, including hedge funds, may view SunEdison's wind and solar farms as "undervalued," making these creditors less interested in selling them immediately.
"We firmly believe that they're going to file for Chapter 11," Johnson said in an interview Friday. "It's just a matter at this point of who wins the negotiations to provide the DIP facility."
SunEdison's publicly traded yieldco units TerraForm Global Inc. and TerraForm Power Inc. had both recently warned that their parent was on this path, saying there's "substantial risk SunEdison will soon seek bankruptcy protection." The developer is understood to have hired Skadden, Arps, Slate, Meagher & Flom as legal adviser for a potential restructuring.
Multiple Scenarios
In the materials released Friday, SunEdison described three potential scenarios, two of which contemplate that shares of TerraForm Global and TerraForm Power are "monetized." The presentation was provided to second-lien creditors and is dated March 17.
SunEdison's TerraForm Units Said to Hire AlixPartners as Adviser
That strategy has been used in the past by master limited partnerships in financial distress, according to Greg Jones, an analyst at CreditSights. The buyers in these cases have included private equity companies.
"Selling the shares would create cash for SunEdison to run its operations," Jones said in an interview. "It looks like they'll need cash for some projects under development."
If SunEdison fails to line up DIP loans, it may be forced to allow lenders to credit-bid, trade in outstanding loans for the company's assets, or wind-down through a liquidation.
Global Pipeline
The company is developing 3.7 gigawatts of projects worldwide, according to the presentation. They will need about $272 million in investments and would generate proceeds of $897 million.
SunEdison expected to need $779 million in cash for the first quarter, according to the presentation. It's working to reduce headcount by 50 percent from October 2015 levels, and detailed an additional $150 million of non-labor savings.
Missed Payment
The disclosure of the DIP negotiations comes as SunEdison faces default on at least $1.4 billion in loans and credit facilities, and after it failed to make a $2.6 million interest payment at the beginning of this month on its 2 percent convertible bonds maturing in 2018. SunEdison's finances are being investigated by the U.S. Department of Justice and the U.S. Securities and Exchange Commission.
In a separate disclosure, SunEdison acknowledged Thursday that management had been "overly optimistic" in its cash forecasts, and promised stronger controls. It was the company's first admission of the financial woes that have dragged down its shares.
Thursday's disclosure came the day its delayed 2015 annual report was due to avoid potential Event of Defaults on the $1.4 billion in loans and credit facilities. The timing of the disclosure was likely viewed as "a step in the right direction and convenient and necessary PR," Winters said.
Before it's here, it's on the Bloomberg Terminal.
LEARN MORE