Should Canadians Be Rooting for Lower Oil Prices?
A counterintuitive call.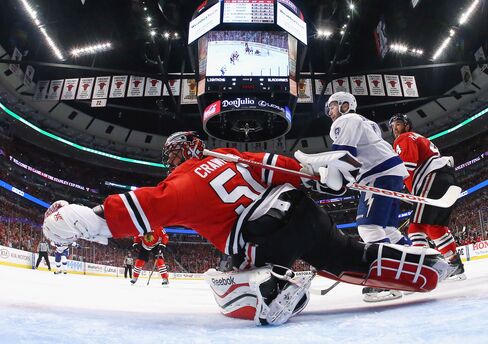 The absence of Canadian teams in the National Hockey League playoffs means that some fans of the 49th parallel have temporarily adopted some odd allegiances.
CIBC World Markets Corp. Deputy Chief Economist Benjamin Tal suggests there's another unfamiliar force Canadians ought to embrace: lower oil prices.
For Alberta, the nation's energy producing heartland, oil's move from $30 to $40 per barrel "is not a gamechanger," according to Tal, as it's unlikely to spur producers to boost capital spending.
But on the flip side, the pickup in oil prices is making it harder for the rest of the economy to perform well, he said.
Because oil plays an immense role in determining Canada's terms of trade, there is a strong correlation between the value of the Canadian dollar and crude prices. The recent strength of the loonie could jeopardize the competitive advantage exporters have received in the wake of the currency's record two-year plunge against the greenback.
Indeed, Bank of Canada Governor Stephen Poloz has described the relationship between the two variables as akin to an owner taking a leashed dog for a walk, quipping that they're sure to leave the park together: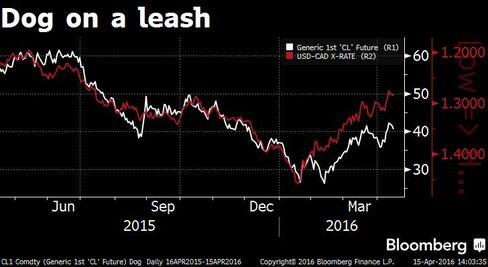 "Only recently have we started to see some positive signs coming from non-energy investment and production as corporate Canada started to respond to the dollar depreciation," wrote Tal. "And this fragile recovery might be at risk as higher oil prices lead to a stronger loonie."
On Wednesday, the Bank of Canada scaled down its estimate of how much exports are expected to add to growth this year, citing the higher Canadian dollar as having had a negative impact on the outlook.
"Simply put, we suffer the pain of a higher dollar without the gain of rising oil prices," added Tal. "So maybe, after all, at this point, $30 oil is better than $40."
Deutsche Bank AG Macro Strategist Sebastien Galy, however, further refines Tal's nuanced argument to show why this counterintuitive view may be off the mark.
Looking past the dynamics of how oil prices and the currency influence real economic activity directly, Galy turns to how this improvement in crude could help boost credit creation.
"As oil prices recover from their lows, the capital pressure on Canadian banks eases, helping them to deploy capital with a lag of a few months," he wrote.
Canada's financial institutions won't have to worry as much about credit losses stemming from embattled energy producers thanks to this pickup in crude, which should foster a loosening of their lending spigots.
In part for this reason, Galy retains an optimistic view of the economic outlook for America's northern neighbor.
"Canada's economy has proven more resilient than expected and may continue to outperform," he asserted. "The Bank of Canada will be faced by better growth than originally planned and little inflationary pressure particularly so as the rally in [the Canadian dollar] obviates higher oil prices."
During a press conference at the International Monetary Fund on Friday, Poloz poured cold water on the claim that lower oil prices could be beneficial for the Canadian economy under these circumstances, while cautioning that he had not seen the report in question.
As oil prices recover, the aggregate income Canada generates rises and circulates throughout the economy, which helps create jobs, he said.
The notion that lower oil prices will be a net benefit to the economy through the exchange rate is "a very partial analysis of the situation," Poloz said. "A drop in oil prices is unambiguously negative for the Canadian economy, all things considered."

This story has been updated to include comments from Bank of Canada Governor Stephen Poloz.
Before it's here, it's on the Bloomberg Terminal.
LEARN MORE