Seven & I Said to Endorse Loeb's Lead Candidate as President
Board to vote April 19 to confirm Ryuichi Isaka's promotion

Chairman Suzuki resigning after failed attempt to oust Isaka
Seven & i Holdings Co. is a step closer to promoting Ryuichi Isaka, head of its Seven-Eleven Japan Co. convenience store unit, to president of the holding company after activist investor Dan Loeb intervened to stop an attempt to oust him, a person familiar with the matter said.
The Seven & i nomination committee has endorsed Isaka in a meeting Friday, and its board of directors will vote to confirm the decision on April 19, said the person, who asked not to be identified because the deliberations are private. The panel also picked Chief Administrative Officer Katsuhiro Goto to be vice-president of the group while executive Kazuki Furuya is to replace Isaka at Seven-Eleven Japan, the person said.
Seven & i spokesman Minoru Matsumoto said nothing has been decided when asked about the outcome of the panel's meeting.
Seven & i's board last week came one vote short of passing a plan by Chairman and Chief Executive Officer Toshifumi Suzuki to remove 58-year-old Isaka. The parent company is now losing its top executive of more than a decade, with Suzuki saying he will resign after the board rejected the 83-year-old's bid to remove his subordinate.
"Isaka's way of company management leading Seven-Eleven to record profits hit a wall built by the long-time leader Suzuki," said Yasuhide Yajima, chief economist at NLI Research Institute. "In the years ahead, Seven & i with a new management structure has to keep the balance of power between Isaka and his supporters, and the executives who took over Suzuki's DNA."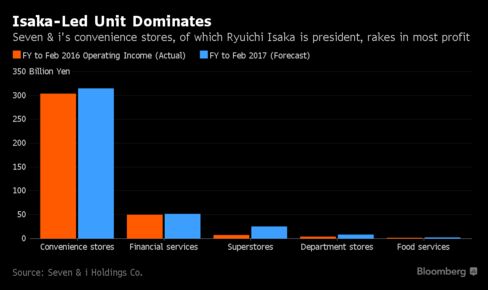 Loeb, whose Third Point LLC first disclosed an investment in Seven & i in October, has called for Japan's largest retailer to restructure or divest less profitable units and said last month Isaka should be a leading candidate to take over the group.
In Loeb's letter to the Japanese company's board dated March 27, the billionaire investor said Seven‐Eleven Japan has delivered outsized results for shareholders and "should be rewarded – not demoted – for his performance and commitment".
Seven & i fell 0.3 percent to 4,798 yen by the close of trading in Tokyo, amid a broader slump in Japanese stocks as investors weighed the fallout from an earthquake that has killed at least nine and injured hundreds in the country's south. The benchmark Topix dropped 0.7 percent, after rising for three sessions straight.
Before it's here, it's on the Bloomberg Terminal.
LEARN MORE