SPEND: A Spectacular Take on a Beloved Middle-Eastern Sweet
Seed & Mill is your new go-to for fresh halva, tahini, and sesame ice cream.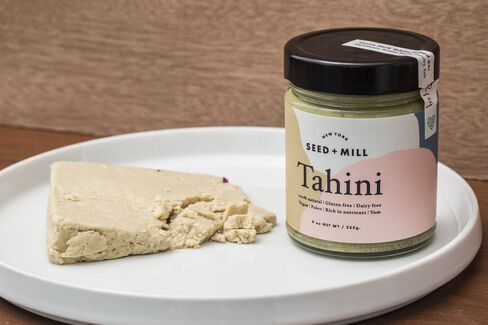 Seed & Mill's glass case is full of halva—great big blocks of the crumbly, flaky Middle-Eastern sesame candy, dappled here with rose petals and pistachios, cocoa nibs, and cardamom husks. The tiny shop in Manhattan's Chelsea Market has more than 20 flavors of the sweet, all of which are produced in Israel, along with a supersmooth and runny tahini, or sesame seed butter, which is milled on site behind the register.
You can go through a 9-ounce jar of tahini very quickly. A few suggestions for how to do this: Drizzle it over roasted vegetables, or use it to thicken a salad dressing. I love Yotam Ottolenghi's recipe for meatballs roasted under a simple, vinegar-spiked tahini sauce, and last fall, I couldn't stop baking Lisa Ludwinski's pumpkin pie, which hides this sweet, jammy layer of tahini-walnut paste. I can't wait to try the Seed & Mill team's extraordinarily simple recipe for sesame truffles: Mix equal parts melted chocolate and tahini and set in a tin lined with plastic wrap in the freezer. Genius.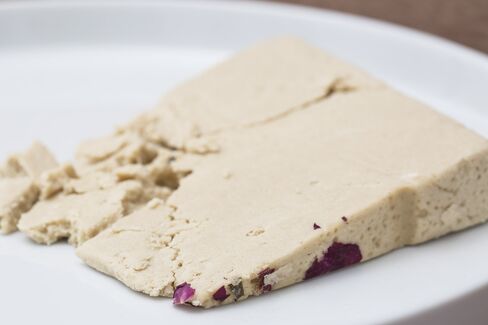 Business partners Lisa Mendelson, Monica Molenaar, and Rachel Simons opened Seed & Mill just eight weeks ago, after years of struggling to find quality tahini and halva in the U.S. Their sesame campaign includes snacks, too. A hot halva and buttered challah sandwich is so rich and sweet, you might need to share it with several people. The heat transforms the sesame confection into a dense, chewy caramel, deadly hot, running slowly like lava, and sticking a little bit to your teeth. Don't worry—by the time you find a coffee and a place to sit down in the market, it will have cooled just enough to eat safely.
Seed & Mill is at Chelsea Market, 409 W 15th St, New York, NY 10011; tahini ($12/9-ounce jar or 2 jars/$20); halva ($6/quarter pound)
Before it's here, it's on the Bloomberg Terminal.
LEARN MORE