S&P 500 Sends Bullish Signal in End of Bollinger Run: Chart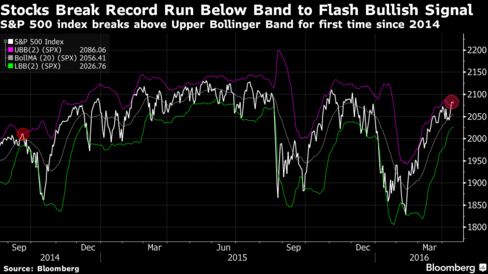 The Standard & Poor's 500 index closed above the upper limit of its 20-day Bollinger band this week for the first time since September 2014, its longest-ever run beneath the chart line. Used to predict stock movement, Bollinger bands are calculated by plotting standard deviations, a measure of volatility, above and below a security over time. Such a long streak below the upper band demonstrates just how weak the S&P 500 has been, and the breakout on Wednesday means a "new bull/uptrend market is near," wrote JC O'Hara, chief market technician at FBN Securities Inc., in a note to clients Friday.
Before it's here, it's on the Bloomberg Terminal.
LEARN MORE