Lew Urges Japan to Focus on Domestic Demand as Yen Rises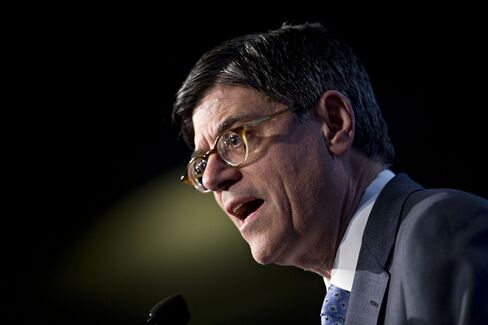 Foreign-exchange markets `remain orderly,' Lew says after G-20

U.S. Treasury chief urges caution on Japan tax-increase timing
U.S. Treasury Secretary Jacob J. Lew urged Japan to focus on boosting domestic demand instead of exports, saying foreign-exchange markets remain orderly even as the yen appreciates.
"Given the backdrop of weak global growth, Japan needs to look to domestic, rather than external, demand," Lew said during a press briefing Friday in Washington. "It's important that overall fiscal policy be supportive and that an ambitious structural reform agenda prioritizes measures to lift near-term growth. Despite recent yen appreciation, foreign exchange markets remain orderly."
He spoke after finance chiefs from the Group of 20 economies reiterated a pledge to refrain from weakening their currencies to gain a trade edge for domestic producers. The yen has risen about 11 percent against the dollar this year, the biggest gainer after the Brazilian real among major currencies tracked by Bloomberg.
Japanese Finance Minister Taro Aso spoke separately with reporters following the G-20 meeting.
"It's true that moves are not very volatile if you look at foreign exchange markets today, literally now," he said.
Aso did not discuss Japan's plan to raise its consumption tax with reporters; a topic upon which Lew counseled caution.
In his remarks, Lew said "Japan has to be careful not to slip into another economic decline, which means they're going to have to be careful about how they phase the timing of future tax increases and whether they offset that with spending in their economy so it doesn't create fiscal drag."
Lew stressed the importance of Japan again adhering to the G-20's pledges on currencies.
In Shanghai in February, "we agreed as a group, and Japan made this commitment, to refrain from competitive currency devaluation, and to communicate with each other so there's no surprises, and to refrain from exchange-rate targeting," Lew said. "The fact Japan has reiterated those commitments is significant. We expect all G-7 and all G-20 members to keep their commitments."
Before it's here, it's on the Bloomberg Terminal.
LEARN MORE