Zloty Rate Isn't a Problem for Poland, Finance Minister Says
Szalamacha sees slower pace of reducing fiscal deficit

Polish May debt roadshow may lead to yuan bond this year
Poland's government has no plans to intervene on the currency market as the zloty exchange rate isn't a worry, Finance Minister Pawel Szalamacha said in an interview in Washington.
The zloty slipped 0.3 percent, against the euro and briefly hit a four-week low of 4.3039 on Thursday. It's down 0.9 percent this year, while its regional peers the forint and leu have shown gains of 1.26 percent and 1.12 percent, respectively.
Poland's Finance Ministry has in the past stepped into the currency market to sell foreign currencies obtained from European Union funds or bond sales to curb zloty weakening. The central bank has also occasionally intervened to limit currency volatility, but the finance minister, who embraced a weak currency following the country's first-ever credit rating downgrade this year, said he saw no reason to take action.
"I have no intention to intervene," Szalamacha said. "It's not a tragedy from my point of view."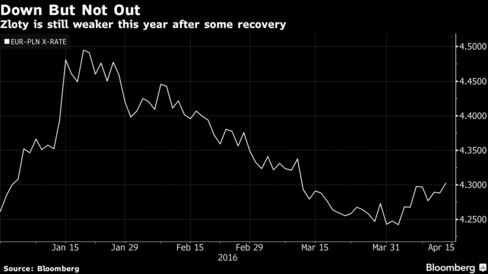 Szalamacha, 47, is trying to strike a delicate balance between carrying out promises of higher government spending by the five-month-old Law & Justice government and adhering to the EU's fiscal rules, which set a budget-deficit ceiling for members of 3 percent of gross domestic product.
He'll do that by boosting tax collection to counterbalance the additional social expenditure, he said. Prime Minister Beata Szydlo's government has already introduced new spending on child benefits and is planning to boost funding for medicine for seniors later this year. Next on the agenda will be lowering the retirement age and raising the income-free tax allowance, Szalamacha said.
Slower Consolidation
Considering the pace of reducing the budget deficit, the minister said he won't be as "super-optimistic" as his predecessors and plans to narrow the shortfall "at a slower pace." In 2017, the budget deficit will probably be close to this year's level of 2.8 percent of GDP, he said. The economy will grow 3.8 percent or 'slightly more,' because of a boost from the child benefits, he said.
The worst deflation in decades, which could be a risk to the Polish economy, may be easing due to higher oil prices, Szalamacha said. He added that the country of 38 million may sell yuan-denominated bonds this year, provided a road show in China, planned for next month, is successful.
Before it's here, it's on the Bloomberg Terminal.
LEARN MORE