Bonds Snubbed by Draghi Outperform as ECB Eyes Corporate Debt
Euro notes from overseas businesses beat locally issued bonds

ECB set to start buying euro-area corporate notes this quarter
Since Mario Draghi announced plans to start acquiring corporate debt in Europe, the market's biggest winners are bonds he won't be buying.
QuickTake Europe's QE Quandary
Gains for euro-denominated notes issued by overseas companies have accelerated this month, and they have now outperformed bonds from euro-area businesses since Draghi's March 10 statement. Both types jumped after the European Central Bank said it would starting buying debt issued by companies based in the single-currency zone.
The rally for overseas bonds has been fueled by speculation that a flood of ECB purchases will drive investors out of local corporate debt and into foreign notes, according to analysts at ING Groep NV and Mitsubishi UFJ Securities International Plc. The non-euro area debt also offers higher yields.
"The crowding-out effect will continue to be massive," said Jeroen van den Broek, ING's Amsterdam-based head of developed-markets credit strategy and research. "And, if you are looking for a little bit of spread, non-euro-zone companies still provide more than European names."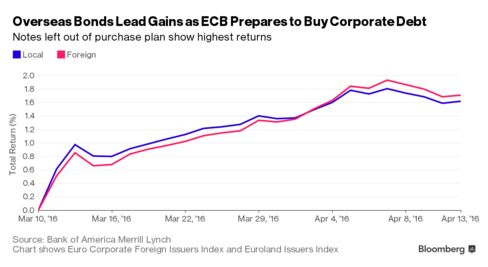 The ECB plans to start buying investment-grade debt issued by non-bank companies toward the end of this quarter. Purchases could total about 4.5 billion euros ($5 billion) a month, or 54 billion euros a year, based on the median of four estimates compiled by Bloomberg. Euro-area companies sold 105 billion euros of investment-grade debt last year, according to data compiled by Bloomberg.
A spokesman for the Frankfurt-based ECB declined to comment on size of the planned purchases.
GE, AT&T
Euro-denominated bonds from overseas companies, including General Electric Co., AT&T Inc. and BP Plc, have returned 1.7 percent since the day of Draghi's announcement, based on Bank of America Merrill Lynch index data. That compares with 1.6 percent from local notes.
The foreign notes yield an average 1.12 percent versus 1.02 percent for local euro debt, the data show. Investors usually demand a premium for holding non-domestic debt. The gap may widen as ECB purchases could depress yields on euro-area notes, said Lars Dueser, a credit analyst at Mitsubishi UFJ Securities.
"Non-native euro issuers are getting increasingly attractive," he said. "The spread pickup they offer over native euro issuers will likely grow."
Short-Term Uncertainty
Buying overseas notes also shelters investors from potential disappointments in the central bank's plan, Dueser said. Prices for local notes may fall if monthly purchases are smaller than expected or if some companies' bonds are excluded, he said.
A risk for non-local notes is that the region's low borrowing costs may lead to a flood of issuance and price pressures. FedEx Corp., Fomento Economico Mexicano SAB and Fluor Corp. have sold their first euro-denominated bonds since the ECB announcement.
Favoring overseas bonds could also mean investors miss out on a potential spike in prices for locally issued debt if the ECB introduces further measures, said Paola Binns, a portfolio manager at Royal Asset Management Ltd., which oversees about 86 billion pounds ($120 billion).
"Central banks have a lot of flexibility and power," she said. "It's dangerous to play against their actions."
Yield Collapse
The ECB started buying covered bonds in 2009. Average yields have tumbled to 0.2 percent from about 4 percent before the 2008 financial crisis, based on Bank of America Merrill Lynch index data. The central bank now owns about a third of the market, according to ABN Amro Bank NV fixed-income strategist Joost Beaumont. The bonds are guaranteed by the issuer and have a designated pool of assets.
Investors expecting similar effects in the corporate-debt market have already helped drive up prices for notes likely to qualify for ECB purchases. That's causing money manager Saida Eggerstedt to look more favorably on non-local bonds than on notes from euro-zone companies.
"Euro-area non-financials are looking pretty expensive," said Eggerstedt, who helps oversee about 29 billion euros of corporate bonds at Deka Investment GmbH in Frankfurt. "Quite a lot of the expected gains in valuations have already been priced in."
Before it's here, it's on the Bloomberg Terminal.
LEARN MORE