Korea Has `Room' to Cut Rate and Sell More Debt, Yoo Says
Yoo says Korea is able to broaden its expansionary policies

He sees sluggish global economy as biggest hurdle to growth
South Korea has room to lower borrowing costs and issue more debt if such expansionary policies are needed to help the economy meet its 3.1 percent growth target for 2016, Finance Minister Yoo Il Ho said.
The country's record-low 1.5 percent benchmark interest rate is higher than that of many other nations, Yoo told Bloomberg News in an interview in New York ahead of the next Bank of Korea policy meeting on April 19. Speaking as Koreans go to the polls to elect members of the national legislature, he also pointed to the economy's relatively low debt-to-GDP ratio of 37.9 percent.
"We have room for the two measures," Yoo said, while declining to comment on whether a rate cut was needed to support consumption. The government would be comfortable raising the debt ratio to a 60 percent cap suggested by the Organization for Economic Co-operation and Development, he said, while calling for caution not to increase this by too much, too soon.
Yoo's comments come as falling exports and weak consumer sentiment at home cloud the outlook for Korea's economy. The International Monetary Fund lowered its forecast for South Korea's 2016 economic growth to 2.7 percent from 3.2 percent, citing sluggish Chinese demand for the nation's exports.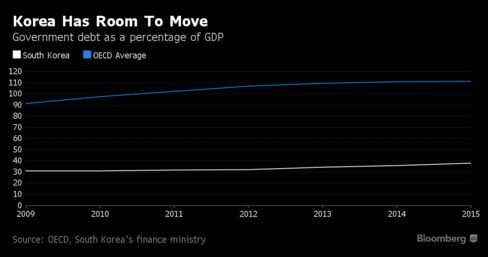 While government spending is sufficient "for now" to meet its growth target, a further slowdown in China and continued negative interest rate policies by the European Union and Japan may require South Korea to further expand fiscal stimulus or use other policy levers, Yoo added.
"It depends if the international economy, the outside environment, is not so good for us," he said. "If it's worse than expected, then we might rely on a supplementary budget."
Fiscal policy has continued to expand under President Park Geun Hye's leadership. An extra budget was drafted twice in the past three years. This year, the government allocated more spending to the first quarter under a record spending plan.
The "mini expansionary policies" introduced in February, such as partial tax cuts and front-loading of the government budget, have had a positive effect, as shown by the rise in automotive sales volume and the up-tick in the Kospi stock index in Seoul, Yoo said.
The Bank of Korea has a bleaker view of the economy's prospects, with Governor Lee Ju Yeol recently saying that growth is likely to fall below 3 percent this year.
FX Markets
The won has strengthened about 8 percent against the dollar since the beginning of March, coming back from a 5.2 percent drop in the prior two months.
It closed at 1,145.87 versus the dollar on Tuesday. Markets are closed in South Korea Wednesday as citizens vote in the National Assembly election.
While it's too early to say that the won has stabilized, Korea's foreign exchange market is "working fairly well" with the currency becoming less volatile than it had been in February and March, Yoo said. He added that the ministry continues to monitor the markets and will take a "flexible approach" to existing restrictions on currency-forward positions for banks.
Vice Finance Minister Choi Sang Mok said last month that the nation planned to loosen restrictions on currency-forward positions for banks, in a sign it was becoming more comfortable with capital flows as volatility in financial markets shows signs of easing.
Choi said limits on banks' currency-forward positions would be eased as a way to allow financial institutions to increase short-term liquidity in dollars. Currently, branches of overseas banks are required to reduce holdings of the positions to 150 percent of equity, and local banks to 30 percent.
Currency Forwards
The situation has changed since Choi's comments, with a recovery in flows into South Korean stocks and some bonds, and easing of the limits may not be necessary, according to Yoo. He said the matter is still under review.
South Korea's ruling Saenuri party has called on the central bank to adopt aggressive policies including more debt purchases to help funds flow directly to necessary areas.
Economic growth in South Korea remains subdued despite a series of interest-rate reductions by the central bank. Exports have fallen for 15 consecutive months, household debt is at a record high and the unemployment rate is the worst in six years.
Even amid the exports slump, the current account surplus reached $105.96 billion in 2015, the most since the BOK began gathering data in 1980.
Yoo said the surplus is "out of control now" due to less exports and far less imports, "which is a bad sign for us because it means we're in a deflationary situation."
Consumer prices 1 percent in March from a year ago, while core consumer prices, which strips out the impact of oil and agricultural products, advanced 1.7 percent.
Before it's here, it's on the Bloomberg Terminal.
LEARN MORE