U.S. Stocks Climb to Four-Month High After JPMorgan Results
Futures held gains after disappointing economic reports

S&P 500 bank gauge posts biggest gain as all 17 stocks rise
U.S. stocks extended gains a second day to reach the highest in four months, buoyed by improving Chinese trade data and better-than-expected results from JPMorgan Chase & Co., the biggest U.S. lender by assets.
JPMorgan advanced 4.2 percent after reporting first-quarter profit was boosted by pay cuts and trading revenue that declined less than most analysts predicted. Bank of America Corp., Wells Fargo & Co. and Citigroup Inc., scheduled to release results later this week, climbed at least 2.6 percent. Companies that are popular targets by short sellers rallied today, with a Goldman Sachs Group Inc. gauge of the 50 most shorted stocks posting the biggest increase since March 2.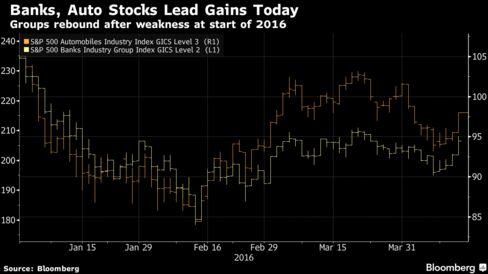 The Standard & Poor's 500 Index rose 1 percent to 2,082.42 at 4 p.m. in New York, the highest since Dec. 4. Volume on U.S. exchanges was 8.1 percent higher than the 30-day average. All but five stocks in the 30-member Dow Jones Industrial Average increased, as the measure climbed 1.1 percent to 17,908.28 today. Futures contracts in pre-market trading held onto gains after releases showed U.S. retail sales and wholesale prices unexpectedly slumped last month, stoking speculation the Federal Reserve may slow the pace of further rate increases.
"While U.S. numbers were a little weak, it's a strong day overseas and China data was much better than expected," Mark Kepner, an equity trader at Chatham, New Jersey-based Themis Trading LLC, said by phone. "While JPMorgan had a tough quarter, they still beat estimates. If earnings come in better than expected -- with expectations so low -- if we have even a decent beat, you may see us break out."
S&P 500 analysts have been projecting first-quarter profits by companies in the benchmark shrank 10 percent in the first quarter, with bank earnings contracting by 20 percent. That's fueled concern on the outlook for stocks, with valuations far above their five-year average and the seven-year bull market weeks away from becoming the second-longest in history.
A report showed China's exports jumped by the most in a year in March and declines in imports narrowed, helping ease worries about a slowdown in the world's second-largest economy. U.S. stocks are rebounding a second day, as crude pushed past $42 a barrel yesterday, lifting energy producers to their best one-day gain in almost two months.
Banks, the worst-performing group so far in 2016, led gains with all 17 stocks in the S&P 500 index rallying. Among lenders that advanced today were People's United Financial Inc. and Zions Bancorporation, which have short interest out of shares outstanding at 16 percent and 6 percent, respectively, data compiled by Markit Ltd. show.
Carmakers also advanced. Harley-Davidson Inc. added 4.3 percent after UBS AG said the company's retail sales in March likely jumped 10 percent because of warm weather. Bearish bets on the motorcycle maker is at 15 percent. Delphi Automotive Plc increased 5.6 percent after announcing a new buyback program and winning a long-running dispute with the U.S. Internal Revenue Service over whether the parts maker should be allowed to call itself British for tax purposes.
Activision Blizzard Inc. climbed 5 percent after Stifel Nicolaus & Co. raised its price target ton the company to $40 a share from $35, saying its new game "Overwatch" could lead to a record year. The new price forecast is 19 percent higher than the stock's close yesterday.
CSX Corp. rose 4.2 percent after the rail transportation company posted quarterly profit in line with analysts' estimates, as cost cuts helped make up for a drop in coal and oil carloads.
Before it's here, it's on the Bloomberg Terminal.
LEARN MORE