Park's Party Seen Shy of Majority in South Korean Election
Sluggish economy with rising jobless rate a likely factor

Exit polls confound predictions of big gains for ruling party
President Park Geun Hye's party is falling short of the majority it sought in South Korea's 300-member parliament, according to exit polls, in a potential setback to its economic agenda in her final years in office.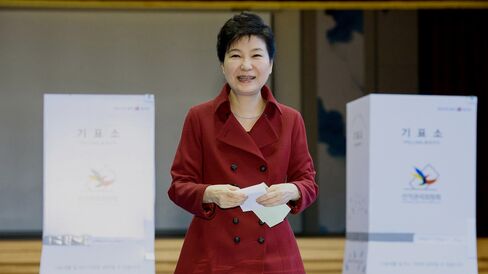 The Saenuri Party will probably win between 118 and 147 seats in Wednesday's election, local broadcasters said, citing exit polls. The ruling party currently has 146 seats in the National Assembly, South Korea's unicameral legislature.
The polls are running counter to the earlier predictions that Park's party would secure more than 150 seats and even win a super-majority of 180 seats that would allow it to pass bills without consent from the opposition.
Exit polls suggest that Park's hard-line stance on North Korea didn't sway voters while a slumping economy was likely a factor. South Korea's youth unemployment rate hit a record in February and exports have fallen for 15 consecutive months. Household debt also remains at a record level.
"Her grip on the ruling party will weaken further if the polls are right," Kim Man Heum, head of the Korean Academy of Politics and Leadership institute in Seoul, said in a telephone interview. "This is a setback for her leadership across the board."
Gridlock in Parliament
The Saenuri Party had pledged quantitative easing steps during the campaign while Park has tried to push through bills to reform the labor market, boost service industries and enhance cyber-security. She has blamed gridlock in the parliament for the failure to pass significant economic legislation.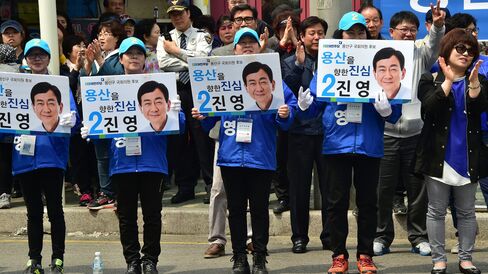 The main opposition Minjoo Party is set to win between 96 and 128 seats while the People's Party -- a group that split off from the Minjoo Party -- may win between 24 and 42 seats, polls showed. Led by Ahn Cheol Soo, a businessman-turned-politician, the People's Party currently has 20 seats in the National Assembly.
Some voters disenchanted with Park may be turning to Ahn's party, said Robert Kelly, a political science professor at South Korea's Pusan National University. Ahn gave up his presidential bid in 2012 despite polls suggesting he could beat Park. Shares of anti-virus software company Ahnlab Inc., which he founded, have risen 21 percent since the parliamentary campaign began on March 31.
Before it's here, it's on the Bloomberg Terminal.
LEARN MORE