OPEC Pumps Below Planned Freeze Level Without Even Trying: Chart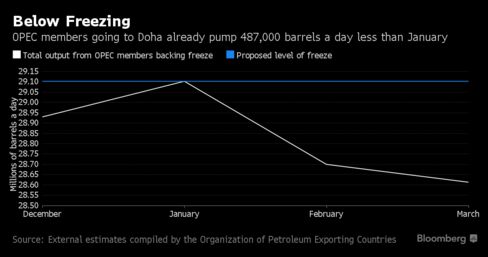 Eleven of OPEC's 13 members are confirmed to attend talks in Doha this weekend to reach a deal on freezing oil production at January levels, and the group's data show they've been sticking to that limit -- even if they didn't plan to. March production from those 11 countries -- which exclude Libya and Iran -- was 487,000 barrels a day below January output, mostly because of disruptions in Iraq and Nigeria. That means if the accord is ratified on April 17, a freeze would technically allow for more OPEC oil to hit the market.
Before it's here, it's on the Bloomberg Terminal.
LEARN MORE