Premier spurned three advances from U.S. spice producer

Shares of U.K. gravy maker drop as much as 31 percent
Premier Foods Plc shares plunged after McCormick & Co. abandoned takeover talks, saying the U.K. maker of gravy mixes, cooking sauces and cakes was asking for too high a price.
After a review of Premier's finances, McCormick said on Wednesday that the price the company's board is demanding won't benefit its own shareholders. Premier Foods tumbled as much as 31 percent following the announcement.
The failed talks will put pressure on Premier Chief Executive Officer Gavin Darby to deliver growth for shareholders, especially as the company is still saddled with a deficit-laden employee pension program. After spurning McCormick's initial approaches, Premier forged an alliance with Japan's Nissin Foods Holdings Co. -- a deal that included Nissin taking a stake in the U.K. company. Shareholders objected to the move, urging Premier to sit down with its U.S. suitor instead.
Investors aren't happy to see McCormick go, said Robert Lawson, co-founder at consulting firm Food Strategy Associates.
"This is a blow for Premier Foods shareholders, but also for members of the pension scheme who would have been hoping for resolution of a decade of significant underfunding," he said. "The board will no doubt face questions from shareholders and trustees alike as to how they let McCormick get away."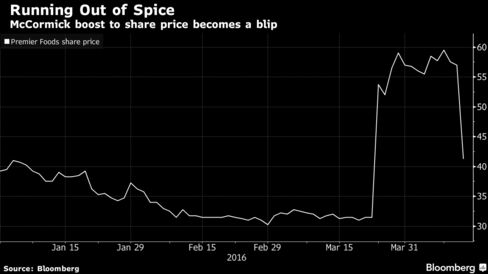 The last takeover proposal valued Premier at 65 pence a share in cash, or 1.5 billion pounds ($2.1 billion), including debt. McCormick, a maker of spices and seasonings, had said it planned to extend the reach of Premier brands such as Mr. Kipling cakes and Bisto gravy internationally. McCormick could have also shored up Premier's pension deficit, which stood at 33 million pounds in November.
Premier had surged 81 percent since March 22, the day before the company disclosed that McCormick had approached it about a deal. The shares were down 25 percent to 43 pence at 2:58 p.m. in London. McCormick declined 1.6 percent to $97.30 in New York.
Premier said it appreciated the "open and constructive spirit" of its dealings with McCormick.
"The board sees a strong future for an independent Premier Foods," it said in a statement. The company last month raised its sales growth forecast over the medium term to as much as 4 percent, up from 1 percent to 2 percent previously.
McCormick CEO Lawrence Kurzius said last month that Premier was just one of the company's M&A ideas. Lawson, the consultant, said McCormick might now look at targets in continental Europe, including Spanish food producer Agrolimen.
Before it's here, it's on the Bloomberg Terminal.
LEARN MORE