Malaysian Currency Takes Down the Mighty Yen in 2016 Gain: Chart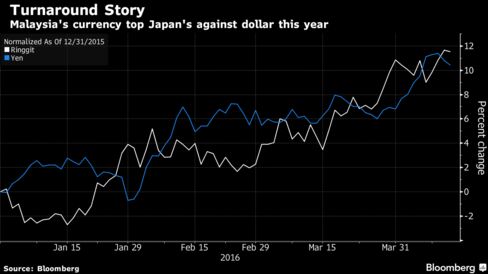 Malaysia's ringgit has rebounded from a horror start in the first half of January to overtake the yen as Asia's top performer in 2016, buoyed by a recovery in oil prices and a cooling off in political risk. The currency has strengthened more than 11 percent this year and analysts have turned less bearish, with forecasts of 4.10 per dollar by end-June, compared with 4.35 at the start of 2016. The ringgit rose to an eight-month high of 3.8465 on Wednesday, extending its rally from a 17-year low in September.
Before it's here, it's on the Bloomberg Terminal.
LEARN MORE