Goldman Sachs: These Companies Could Be Hurt the Most by Rising U.S. Wage Growth
Here comes wage growth...and lower profits.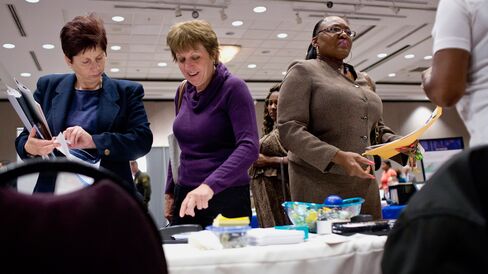 Good news for employees' pockets could prove to be bad news for some companies' bottom lines.
Wage growth has remained elusive during the recent U.S. economic recovery, but there are now signs of pay picking up, especially with new laws raising minimum wages in some cities. California has agreed to set a $15 minimum wage by 2022, and New York Governor Andrew Cuomo would like to do the same.
This, coupled with companies like Wal-Mart Stores Inc. making voluntary pay increases to attract workers, means that a growing number of firms will be dealing with higher labor costs this year. It's a trend underscored by new Goldman Sachs Group Inc. research detailing the industries which could see the biggest impact on their profits thanks to higher wages.
Goldman analysts led by Ben Snider and David Kostin, note that for every 1 percent rise in labor costs (above a baseline of 3 percent) there's a 0.7 percent drag on earnings per share for the S&P 500. That headline figure disguises a big industry-level variation, however.
"The most labor-intensive sectors are generally most vulnerable, while capital intensive sectors and those with a large share of labor abroad are the least sensitive," they add.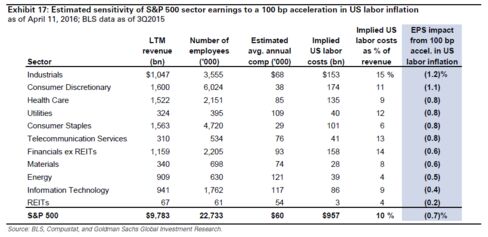 This isn't good news for investors bullish on the sectors with high labor costs, Goldman says. "The sector earnings sensitivities we estimate are also reflected in share price performance." However, companies that have seen the lowest impact from wage growth could be poised to outperform in the coming months.
The firm has created two baskets of stocks to bear out this theory: One that it believes will see the biggest impacts from wage growth and one that will be more insulated from future pay hikes. Historically, when average hourly earnings have risen the low labor basket has outperformed the high labor basket, sometimes by more than half a percent. Conversely, as wage growth has decelerated this year, the low-cost basket has fallen behind.
Names in the low labor cost basket include Netflix Inc., NIKE Inc., Exxon Mobile Corp., and Metlife Inc. Companies in the high-cost basket which are more exposed to higher pay are Whole Foods Market Inc., Yahoo! Inc., and General Mills Inc.
Before it's here, it's on the Bloomberg Terminal.
LEARN MORE