After scouring the coast of Indonesia's Sulawesi island in 2014 for a place to build a nickel smelter, Amir Jao and his Chinese partners had just about given up when they pulled into the tiny town of Bantaeng.
"We were treated like a guest," said Amir, a shareholder in Huadi Nickel-Alloy Indonesia, a partner of Shanghai Huadi Industrial Co. "The mayor came to us and asked how he could help. As long it was in line with the rules, his attitude was: That's not a problem."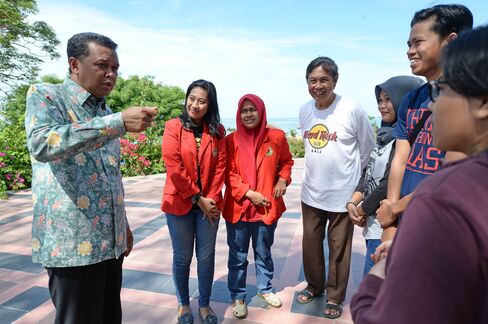 Thanks to one of the world's deepest decentralization programs, money and power have spread to Indonesia's remote provinces, allowing some local officials to get around the country's record as a tough place to do business. Bantaeng's leader Nurdin Abdullah, known as the regent, has gained a reputation as one of them.
Changing Mindsets
"Bantaeng is only a small place—if we only did farming, we couldn't survive," said Abdullah in an interview at a beach-resort area developed by his government. "I've tried to change the mindset of the people here and leverage what we have."
Huadi Nickel's $150 million smelter, with sweeping views of the Sulawesi coastline from its top floor, is now almost complete, along with a jetty to unload the ore from mines in Indonesia and export the concentrate.
The success of places like Bantaeng, 1,450 kilometers (900 miles) east of Jakarta, is vital to President Joko Widodo's economic agenda of cutting red tape, attracting foreign investment and investing in services and infrastructure. While Indonesia's economy expanded last year at its slowest pace since 2009, Bantaeng's growth of 9.2 percent was almost twice as fast as the national rate.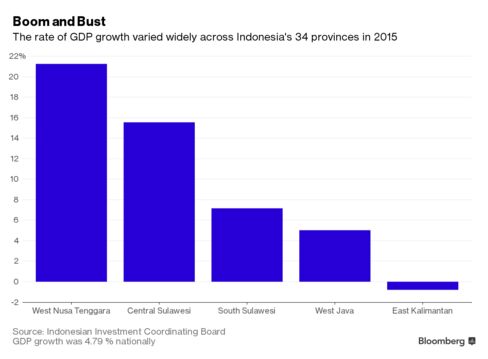 Key to Bantaeng's success has been tapping the freedoms given to local authorities after the 1998 downfall of former dictator Suharto—whose administration had seen political, security and financial controls firmly centered in the capital. Responsibility for financing and public services like health and education shifted to local governments. This year, more than half of government finances will be allocated directly to regional and district authorities, according to the World Bank.
Seafront Reclaimed
The town, home to most of the district's 172,000 people, sits between the sea and rolling hills. Visitors are struck by the cleanliness of its streets, with dozens of workers sweeping wide new pavements. On the reclaimed seafront, locals wait for fishermen to return from overnight trips while mums watch over roller-skating children.
Abdullah, a 53-year-old who used to run a business exporting wooden altars to Japan, and Jokowi, who used to export furniture, are emblematic of a new brand of Indonesian politicians, who win votes more by their reputation of improving urban services than through the traditional network of political connections.
Take Bantaeng's free ambulance service. It promises to reach any citizen, with any medical complaint, emergency or otherwise, within 20 minutes.
Improved Services
On a recent hot Sunday afternoon, the phone rings at the ambulance station. A girl has collapsed at the market. Moments later, one of four ambulances lined up outside is speeding through the streets, siren wailing. Within 10 minutes, a doctor and paramedic check her airways as worried relatives peer through the open door of the vehicle. A few minutes later, she's recovering in a clinic back at the station.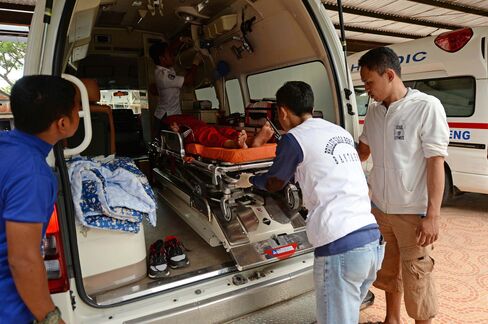 While far from developed-world standards, the level of paramedic service is impressive for Indonesia. Health officials from 150 other districts have come to the town to see how it works, said the director of the service, Andi Iksan.
The fleet of new ambulances was donated by Toyota Motor Corp., a clue to part of Abdullah's success. He did a masters and Ph.D. in agriculture in Fukuoka, Japan in the 1990s. Last year, he pitched Indonesia and Bantaeng to a roomful of 300 investors in Tokyo.
Also new: a coastal road, an eight-story hospital—the tallest building—that's almost complete and strawberry farms and orchards on the slopes overlooking the city.
Rising Stars
The introduction of competitive elections in 2005 further improved the push for better governance and public services in some areas, and Abdullah isn't the only local leader now gaining attention. Tri Rismaharini, the mayor of Surabaya, and Ridwan Kamil, his counterpart in Bandung, oversee Indonesia's second and third largest cities and have gained reputations as reformers, as has Suyoto, head of the Bojonegoro district in East Java.
Still, bright spots for investment remain the exception. Corruption is deeply embedded across the country, which ranked 109th in the World Bank's 2015 ease-of-doing-business survey, well below neighbors Malaysia, Thailand and Singapore. Between 2004 and 2015, 17 governors and 49 regents, mayors or their deputies were convicted of graft, according to the country's anti-corruption commission.
Michael Buehler, a lecturer in comparative politics at the School of Oriental and African Studies at the University of London, said his research showed little correlation between decentralization and good governance.
Not Convinced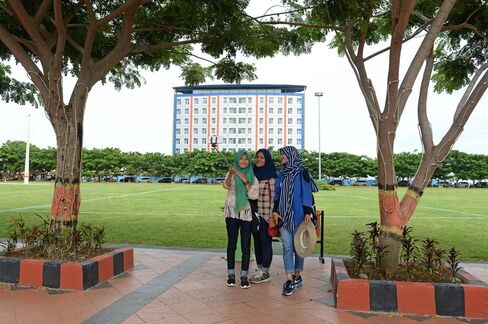 "I have yet to see a convincing argument as to how exactly these figures cleaned up their local bureaucracies," said Buehler, who has visited Bantaeng several times. "An understanding has developed that services can be expected from the state, sure. I don't think there is much actual change on the ground for ordinary Indonesians."
That's not the assessment of Bantaeng resident Fauziah, who like many Indonesians uses one name.
"People used to say 'what's the point of Bantaeng,' and drive straight through it," said Fauziah, wearing a head scarf embossed with South Park characters as she strolled the seafront. "No more. The regent is like a magician. He can create things out of nothing."
The new model for urban politics has become a springboard for higher office. Just as Jokowi parlayed his popularity as a pragmatic governor of Jakarta to win the presidency, Abdullah is aiming to compete in 2018 for South Sulawesi provincial governor.
"The people, they want me to run," he said before lunching with supporters at a beach hotel. "They can see we have developed Bantaeng from nothing."
Before it's here, it's on the Bloomberg Terminal.
LEARN MORE