Och-Ziff Slumps on Report U.S. May Seek Guilty Plea in Probe
Money manager's shares fall to lowest level on record

Outcome of probe could be `adverse,' Citigroup analyst says
Och-Ziff Capital Management Group LLC, the largest publicly traded U.S. hedge-fund manager, dropped to its lowest level ever after a report that the firm may be required to plead guilty to criminal charges of bribery.
The New York-based investment firm, which is led by Daniel Och, has been in the crosshairs of investigators for at least five years over whether it knowingly paid bribes to get an investment from Libya's sovereign wealth fund. The Justice Department is pushing for a guilty plea, and securities regulators are seeking civil sanctions of as much as $400 million from Och-Ziff, the Wall Street Journal reported Tuesday, citing people familiar with the matter.
Citigroup Inc. analyst William Katz said in a note Tuesday that the result could be "potentially (quite) adverse" and could lead to further redemptions. Och-Ziff may also need to reduce distribution payouts to help fund a potential settlement, he said.
Och-Ziff fell 13 percent in New York, the most in two months, to $3.30. That's the lowest level since the firm went public in 2007, at a price of $32 a share.
Officials for the company, the Securities and Exchange Commission and the Justice Department declined to comment.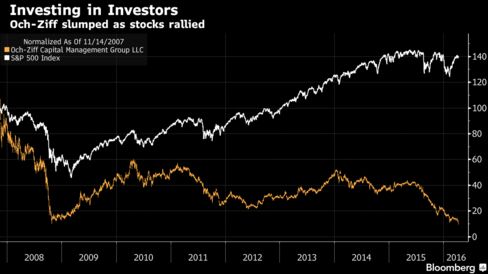 Och-Ziff was founded in 1994 with money from the Ziff family. Och, a former Goldman Sachs Group Inc. trader, took it public in November of 2007 at the beginning of the financial crisis, a rare move in the world of hedge funds, most of which are private firms. The decision followed IPOs by Blackstone Group LP and Fortress Investment Group LLC the same year. All of them are trading below their IPO price.
Legal woes, coupled with a decline in assets and mediocre performance in the firm's main multistrategy hedge fund, have taken a toll on the company's stock. Och-Ziff fell 26 percent on Feb. 11, after the firm said assets declined and legal costs are likely to continue even after U.S. authorities resolve an ongoing investigation. The shares are down 90 percent since the IPO.
The firm saw its assets fall by about $1 billion in March to $42 billion on April 1, according to a company filing. Och-Ziff had $47.5 billion under management at the end of 2014. The OZ Master Fund, the firm's main multistrategy pool, lost an estimated 3.4 percent through March, according to the filing.
Before it's here, it's on the Bloomberg Terminal.
LEARN MORE