Indicted Payday-Loan Pioneer Has Fingers in Fintech Companies
Charles Hallinan faces racketeering case for payday lending

He's also a backer of Everest, CircleBack and Clarity Services
Everest Business Funding and CircleBack Lending Inc. are among the dozens of online lenders that have sprung up in recent years using sophisticated analytics to offer fast money to borrowers rejected by banks.
It turns out they have something else in common: an investor indicted last week on racketeering charges. His name is Charles Hallinan, and he's known in the payday-loan industry for pioneering the tactics some lenders use to circumvent state laws banning the costly advances. Hallinan, who has pleaded not guilty, is also an investor in Clarity Services Inc., a credit-reporting firm that says it has data on more than half of all subprime borrowers in the U.S.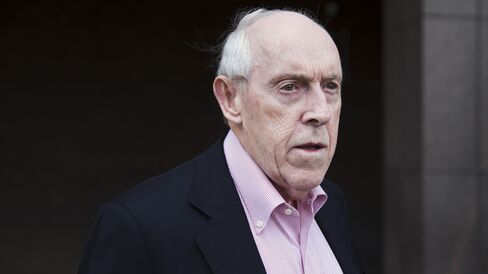 Big banks, hedge funds and venture-capital firms are investing billions of dollars in financial-technology startups that promise to make lending more efficient. Hallinan's career and his investments show that going online also appeals to lenders who don't want to be subject to stricter regulations that apply to old-fashioned banks. Some of the companies now viewed as the future of finance have less savory roots in payday lending, subprime mortgages or high-pressure telephone sales.
While people close to Everest and CircleBack confirm that Hallinan holds minority stakes, they say he isn't active in daily operations. Hallinan gave up his board seat at Clarity Services after the indictment, according to Chief Executive Officer Tim Ranney. None of the companies was accused of wrongdoing in the racketeering case.
Landfill Fortune
Hallinan, 75, got into payday lending in the 1990s after selling a landfill company for about $120 million. A graduate of the Wharton School of the University of Pennsylvania, he was among the first to offer payday loans via phone and fax. He became an early adopter of online applications.
Annual interest rates on payday loans often top 700 percent, which violates usury laws in many states. Hallinan popularized two techniques -- referred to as "rent-a-bank" and "rent-a-tribe" in the indictment -- that are used by dozens of lenders to claim high rates are legal.
The first innovation was to pay a bank in Delaware, where rates aren't restricted, to act as a front for his operation, prosecutors say. County Bank in Rehoboth Beach would say it originated the loans and that Hallinan's companies only provided services. When regulators put a stop to that, Hallinan struck sham deals with American Indian tribes, according to the indictment. The tribes said they owned his payday-lending companies and asserted sovereign immunity to stop investigations.
Prosecutors say those dodges are illegal and Hallinan was part of a criminal conspiracy that generated more than $688 million in revenue from 2008 to 2013. County Bank wasn't charged in the indictment and its CEO didn't return a phone call seeking comment.
Hallinan's attorneys didn't respond to requests for comment. Christopher Warren, who represents a lawyer for Hallinan who was also charged, said many tribal lending partnerships have been operating for a decade or longer without issues. He called the case "an unwarranted assault on a popular legal lending program."
Rent-a-Bank
Hallinan's "rent-a-bank" technique has become commonplace among even reputable online lenders that offer lower rates. A borrower who applies through LendingClub Corp. or Prosper Marketplace Inc., two of the biggest marketplace lenders, will probably get a loan issued by WebBank in Salt Lake City. That allows those companies, which haven't been accused of usury, to avoid the need for banking licenses.
CircleBack, founded in 2013, offers consumer loans at interest rates from 6.6 percent to 36 percent and had loaned more than $200 million as of September, according to its website. The company has raised money to make loans from investment bank Jefferies Group and hedge fund Pine River Capital Management, whose representatives declined to comment.
A person close to CircleBack, who asked not to be identified because the matter is private, said Hallinan was a seed investor in the company, though he had no role in operations. CircleBack's website says the loans it offers are made by County Bank in Rehoboth Beach, the same bank Hallinan used. The person close to the company said that's a coincidence.
Everest is part of the booming merchant-cash-advance industry, which makes loans to small businesses such as contractors or pizzerias that might have trouble borrowing from a bank. A February advertisement shows Everest charges as much as $2,500 in fees for a four-month advance of $5,000. That would exceed many states' rate caps. Merchant-cash-advance companies such as Everest say the laws don't apply to them because they aren't making loans -- they're buying the money businesses will make at a discount.
'Extremely Passive'
Everest CEO Scott Crockett previously ran a title lender backed by Hallinan, according to two people who've done business with the men and asked not to be identified because they don't want that known.
Blain Rethmeier, a spokesman for Everest, said Hallinan is a passive minority investor and has no day-to-day involvement in the firm's operations.
"The conduct alleged in the indictment of Mr. Hallinan is not related in any way to his minority investment or the firm's operations," Rethmeier said in an e-mailed statement. "We do not anticipate that the indictment will have any effect on our strong financial position, our ability to serve our customers or our ambitious plans for continued growth."
To expand, Everest borrowed money last year from Atalaya Capital Management, a New York-based private equity firm that manages $1.9 billion. Adam Nadborny, Atalaya's general counsel, said in a telephone interview that Hallinan owns a minority stake in Everest and declined to discuss the allegations against him.
"We were told that he was an extremely passive equity owner of the business who has no involvement in the day-to-day operations," Nadborny said. "He doesn't hold any title."
Clarity is the only one of the three fintech companies in which Hallinan has an interest that's mentioned in the indictment. Prosecutors say the venture provided consumer data to Hallinan's payday-loan websites. They didn't say there was anything wrong with that. Hallinan, as a director of Clarity, signed the consent agreement last year when the Consumer Financial Protection Bureau fined the company $8 million for allegedly obtaining tens of thousands of credit reports illegally. Clarity neither admitted nor denied the agency's findings.
Ranney, Clarity's CEO, said Hallinan provided startup capital for the company and now owns 14 percent of its shares, not "approximately one-third" as the indictment says.
Before it's here, it's on the Bloomberg Terminal.
LEARN MORE