Japan T-Bill Rate to Stay Low After Drop to Record Minus 0.48%
Japanese Treasury-bill rates are likely to stay low after central bank policy helped drive them down to an unprecedented level that's still higher than yields offered by similar debt in Germany and Sweden.
The yield on Japan's three-month bills dropped to minus 0.479 percent on April 8, the lowest level in data compiled by Bloomberg going back to 1992. Germany's three-month bills yielded minus 0.63 percent and Sweden's were at minus 0.62 percent at the end of last week.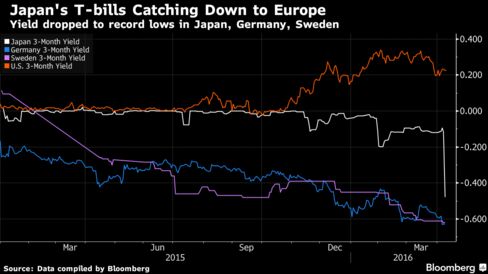 Government debt yields have plunged to records since the Bank of Japan announced Jan. 29 it was introducing negative deposit rates. With about 70 percent of the world's second-largest bond market now yielding less than zero, the rally in Japanese debt has also helped spur gains for sovereign markets worldwide that sent the yield on Bank of America Corp.'s Global Broad Market Index to an unprecedented low last week.
The BOJ is now guiding overnight call rates below zero and demand for the bills may come from domestic investors seeking to park their cash and global funds using cross-currency basis swaps, said Katsutoshi Inadome, senior bond strategist at Mitsubishi UFJ Morgan Stanley Securities Co.
"I don't think this situation will change in two or three months," said Tokyo-based Inadome.
Japan's Treasury-bill auction on April 7 drew a bid-to-cover ratio of 5.09, the highest since Nov. 5
Before it's here, it's on the Bloomberg Terminal.
LEARN MORE