Tiny But Growing, Singapore Air's India Unit Takes Share: Chart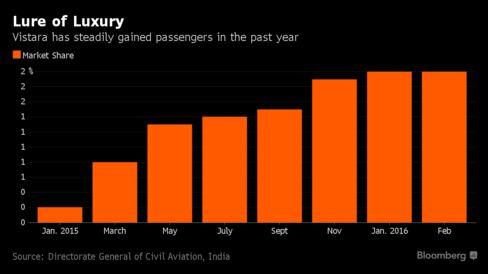 In India, where air travelers often prioritize cost over frills, the Vistara unit of Singapore Airlines Ltd. and Tata Sons Ltd. was struggling so much to fill seats that it offered some free tickets to avoid flying empty planes. A year later, and passengers have warmed up to the inflight movies, meal options and new business-class lounge in New Delhi, filling up three of every four seats on its aircraft. While this has helped boost market share from zero to 2 percent, IndiGo remains the nation's biggest carrier with 37 percent.
Before it's here, it's on the Bloomberg Terminal.
LEARN MORE