Sumitomo Tops Gulf Loan Table as Oil-Cash Decline Curbs Locals
Sumitomo is top GCC lender for second consecutive quarter

National Bank of Abu Dhabi the only local bank in top 10
Japanese lenders are upsetting the natural order in the Gulf's more than $400 billion syndicated loan market.
Sumitomo Mitsui Financial Group Inc. was the top loan arranger for the second straight quarter in the six-nation Gulf Cooperation Council, unprecedented for an Asian bank in the region. While HSBC Holdings Plc -- which has led on an annual basis for four years -- was second, Mitsubishi UFJ Financial Group Inc. took third.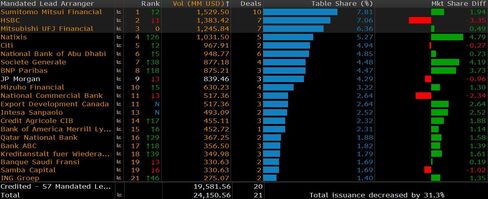 Slumping oil income is curtailing lenders in the GCC at a time when negative interest rates in Japan are forcing financiers to seek revenue overseas. The plunge in crude prices has sapped government deposits from Saudi Arabia to the United Arab Emirates. While regional lenders struggle with tightening liquidity, Japanese banks are offering borrowers deals their Gulf counterparts can't compete with. National Bank of Abu Dhabi PJSC was the only regional name in the top 10 and the top-ranked bookrunner.
"We're going to see more of this pattern in the next four quarters, more demand for credit in the region and more supply out of Japan," said Apostolos Bantis, a Dubai-based credit analyst at Commerzbank AG. "Japan's ongoing rate situation means banks have plenty of liquidity and can give good pricing. And it's attractive for them to lend to the GCC, given strong energy trading relationships."
Sumitomo also claimed the top spot in the fourth quarter of 2015, lending $1.9 billion, a record for the bank. Mizuho Financial Group Inc., another Japanese bank, was second in the period and Mitsubishi was again in third. That helped them round off last year with three of the top four spots, lagging only HSBC. A spokesman for the British bank declined to comment.
Aabar Deal
"Negative interest rates in Japan are spurring Japanese banks to pursue positive returns outside of the country," Andy Cairns, the global head of debt origination and distribution at National Bank of Abu Dhabi, said by phone on Sunday. "As pricing for top-tier GCC loans has risen over past 12 months we've seen Japanese and other international lenders become more active in blue-chip names."
Sumitomo was involved in at least 10 deals so far this year, including Abu Dhabi-based Aabar Investments PJSC's $4.1 billion dual-tranche euro-denominated loan, which tops the league table, according to data compiled by Bloomberg.
"We've had a presence in the Middle East since the 1970's and most recently opened a representative office in Abu Dhabi in March 2014," said Takafumi Sasaki, a Tokyo-based spokesman for Sumitomo Mitsui. "It's an important region for us as a global bank."
GCC Liquidity
Japanese lending activity is tied to that of the Japan Bank for International Cooperation, which helps facilitate deals and guarantee operations.
The U.A.E.'s banking industry lost about 49 billion dirhams ($13 billion) in government deposits since oil prices began to fall in 2014 to 159 billion dirhams as of February, according to central bank data. The growth in bank deposits in Saudi Arabia slowed to 1.9 percent in 2015, the slowest pace since at least 1994, according to data compiled by Bloomberg.
Brent crude, a benchmark for half the world's oil, dropped 26 percent in the past 12 months to close at $41.94 per barrel on Friday. It was down 0.4 percent at $41.76 at 3:34 p.m. in Dubai on Monday.
"If oil recovers significantly, liquidity conditions could improve and local banks would become more active," said Bantis. "Even with an oil recovery, regional banks will be conservative for a year at least."
Before it's here, it's on the Bloomberg Terminal.
LEARN MORE