Union Agrees to Wage Deal With Sibanye Gold, Avoiding Strike
South Africa's Association of Mineworkers and Construction Union agreed to a wage increase with Sibanye Gold Ltd., avoiding a planned strike at the country's largest producer of bullion.
AMCU members, who make up more than 40 percent of about 46,000 Sibanye employees, voted to accept the offer by a show of hands at Sibanye's Driefontein operations near Carletonville, west of Johannesburg, on Sunday. The deal includes improved wage increases for three years and will apply to all the company's workers, AMCU President Joseph Mathunjwa said in an interview.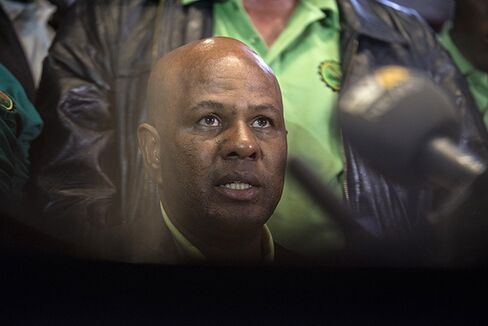 "The workers are very happy," he said, as thousands of people left the stadium after the meeting. "By members accepting this, I think it's more than an increase but we saved lives."
South Africa's economy has been hampered by sometimes-violent mining strikes, most notably a five-month stoppage at platinum operations, the world's biggest, in 2014. Sibanye is in the process of finalizing the acquisition of assets from Anglo American Platinum Ltd. and Aquarius Platinum Ltd. as part of an expansion strategy.
Sibanye hasn't formally heard back from the AMCU, spokesman James Wellsted said by phone. An agreement will bring "peace and stability to the industry," he said.
Wage Increase
The National Union of Mineworkers, UASA and Solidarity unions reached a pay deal last year for increases of as much as 12 percent in the first year. AMCU didn't accept the terms and obtained permission to hold a legal strike over the issue.
The pay agreement improves on the previous deal that applied from July 1, 2015, with the increase in basic monthly pay raised by 25 rand to 700 rand. This takes the total guaranteed monthly package to 11,849 rand from 11,824 rand previously. For the years ending July 2016 and 2017, Sibanye raised the basic-pay increase by 25 rand and 75 rand respectively.
"For us as AMCU it's to change the lives of the workers, irrespective of their affiliation or association," Mathunjwa said.
The stock climbed as much as 6.5 percent, the most since March 17. It traded 3 percent stronger at 56.94 rand by 10:45 a.m. in Johannesburg. Sibanye has more than doubled this year.
Before it's here, it's on the Bloomberg Terminal.
LEARN MORE