Under the Radar, New Zealand Proves Rare Market Winner: Chart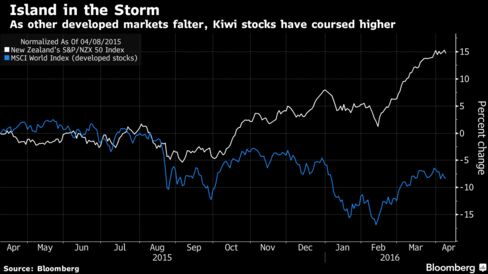 While stocks in New York are dragged around by the whims of global investors, 9,000 miles away in the South Pacific Ocean, New Zealand shares rose for an eighth straight week, the longest run in more than a year. The S&P/NZX 50 Index is one of only two developed markets posting gains for this year, with its 6.3 percent climb more than triple the advance of Canada's TSX Composite. Relatively low foreign-investor involvement and a market dominated by so-called defensive shares that are less sensitive to economic gyrations have seen New Zealand's premium over developed-nation stocks widen to a record.
Before it's here, it's on the Bloomberg Terminal.
LEARN MORE