UBS's Orcel Says Investors Doubting Industry Profitability
Investment banks under pressure to reshape models, Orcel says

Orcel says combination of global factors sapping confidence
Andrea Orcel, head of UBS Group AG's securities unit, said tougher financial regulation and negative interest rates are sapping global confidence as investors question investment banks' ability to earn money.
The U.S. election, Britain's referendum on European Union membership, Russian sanctions and the migrant crisis are among factors that put "everyone in a position of wait and see," Orcel said in an interview with Bloomberg Television's Erik Schatzker in New York on Friday. "The pressure has never been as high to reshape our model to something that can hold water and convince our shareholders that it's worthwhile investing in us."
The world's largest investment banks have seen declining revenue, hurt by record-low interest-rates, plunging oil prices and cooling emerging markets. While UBS pivoted its strategy toward wealth management in 2012, shrinking the securities business and eliminating thousands of jobs to shore up profitability, the shares have lost about a quarter of their value this year amid a wider selloff among European investment banks.
UBS shares rose 2.3 percent to 14.75 Swiss francs at 3:03 p.m. in Zurich. Deutsche Bank AG, Europe's largest bank, has dropped about 38 percent this year, while Credit Suisse Group AG is down 40 percent.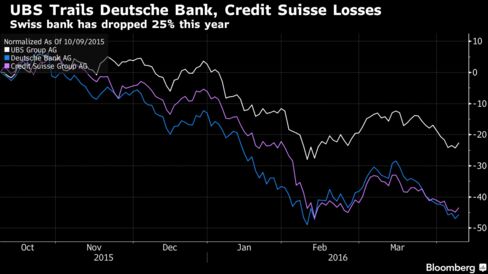 Orcel, 52, who joined UBS in 2012, said that the environment for investment banks is "very challenging," with investors questioning models, strategies, business practices and returns.
"We're at a crossroads where we're seeing increasing regulation, which is changing the rules of the games, many competitors resetting their strategies, which again is changing the way we look at our competition and that is amplified by markets which have never been as challenging in the last decade," he said. "We need to all navigate a long-term perspective and try to cross a year that's shaping up to be quite difficult."
UBS Chief Executive Officer Sergio Ermotti signaled last month that revenue at the securities unit declined in the first quarter from a year earlier, when currency income was boosted by the Swiss central bank's surprise decision to abolish its franc ceiling as well as equities trading in the Asia-Pacific region.
At Deutsche Bank, co-CEO John Cryan said last month that he doesn't expect the German lender to report a profit this year as he eliminates thousands of jobs to boost profitability. Credit Suisse CEO Tidjane Thiam last month announced a second round of restructuring designed to deepen cuts at the investment bank after last year pledging to focus on wealth management.
Deutsche Bank and Credit Suisse are restructuring in a "very difficult market that makes the challenge so much more difficult," Orcel said.
"As everybody tries to respond to these questions, everybody is taking a number of very difficult decisions," he said. At UBS, "the advantage we have at this point in time is we have clarity, we have stability, we have sense of purpose. We're hoping we're making the right decisions."
Before it's here, it's on the Bloomberg Terminal.
LEARN MORE