Italian Officials Said to Step Up Efforts on Lender Fund
Agreement on fund said to be reached as early as next week

UniCredit would be among investors in possible fund, CEO says
Italian government officials and bank executives are stepping up efforts to reach an agreement over a planned fund that may be state backed to help the cooperative lenders lure private investors in share sales, said a person with knowledge of the matter.
An agreement may be reached as soon as next week, said the person, who asked not to be identified because the talks are private. Finance Minister Pier Carlo Padoan and the heads of UniCredit SpA, Intesa Sanpaolo SpA and state lender Cassa Depositi e Prestiti have discussed options including the creation of a fund that would buy shares in bank recapitalizations and help them tackle non-performing loans, people familiar have said.
Prime Minister Matteo Renzi is seeking to modernize the industry, reduce an estimated 360 billion euros ($410 billion) in soured loans and bolster a recovery from recession in the euro-area's third-largest economy. To help clean up the financial system, the government earlier this year struck an agreement with the European Commission, allowing banks to bundle their bad loans into securities for sale, while purchasing a state guarantee for the least-risky portion to make the debt appealing to investors.
"A number of privately-held institutions are discussing a solution that should address capital and bad loan issues," UniCredit Chief Executive Officer Federico Ghizzoni said at a press conference in Milan late Thursday. "We would consider this as a positive solution."
Italian lenders rose, with UniCredit shares surging 8.9 percent to 3.05 euros at 4:37 p.m. in Milan after declining 5.9 percent on Thursday. That pared losses this year to about 39 percent. The Bloomberg Europe Banks and Financial Services Index is down 25 percent in that period. Banco Popolare SC, Unione di Banche Italiane SpA and UniCredit are the worst performers on the benchmark.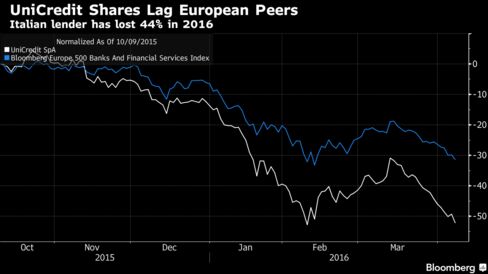 Financial institutions are "intensively" working on a solution that would see private investors participate in the fund, Ghizzoni said. The vehicle would be financed by foundations, pension funds and other private firms, while the CDP may have a role as an investor, according to people familiar.
Ghizzoni, who runs Italy's largest bank, said that "it's clear" that UniCredit would be among investors of the fund, without elaborating on the process or technicalities of such a plan.
IPO Plans
"The setup of funds supporting the disposals of non-performing loans by Italian banks and the capital increases would be positive for the sector, provided that the European Central Bank and the European Commission give the green light," Manuela Meroni, an analyst at Banca IMI SpA, wrote in a note to clients on Friday. She has a hold recommendation on UniCredit shares.
Ghizzoni said UniCredit is pushing ahead with the initial public offering of Banca Popolare di Vicenza SCpA that it's running. The lender, which is guaranteeing 1.5 billion euros of the 1.8 billion-euro IPO, had planned to start gathering orders on April 19 and the shares would begin trading on May 3, people with knowledge of the plan said earlier.
As part of the country's consolidation, Veneto Banca SCpA plans to raise about 1 billion euros in an IPO next month. Banco Popolare SC and Banca Popolare di Milano Scarl last month ended weeks of deliberations, saying they agreed to form Italy's third-largest bank in an all-stock deal.
Ghizzoni said he's confident about the outcome of the Vicenza IPO, which would allow investors the chance to make "relevant upside" buying shares of the cooperative bank.
Fortress Interest
Fortress Investment Group, the New York-based private-equity firm, has approached Pop. Vicenza to buy a stake in the lender, a person with knowledge of the matter said. Under the proposal, Fortress would purchase an unspecified amount of bad loans from the unprofitable lender and inject capital in the IPO process, the person said.
Ghizzoni said at a conference on Friday that he's aware of the fund talking to Pop. Vicenza, without elaborating.
"We are seeing an important though silent participation of private equity firms and funds" in banks' transformation from cooperative to joint-stock firms, Giuseppe Capponcelli, CEO of Istituto Centrale delle Banche Popolari Italiane SpA, said in an interview at a conference in Cernobbio, Italy. The creation of a fund financed by financial institutions and CDP would be a "very good solution," he added.
Before it's here, it's on the Bloomberg Terminal.
LEARN MORE