Banker at Center of $81 Million Heist May Turn State Witness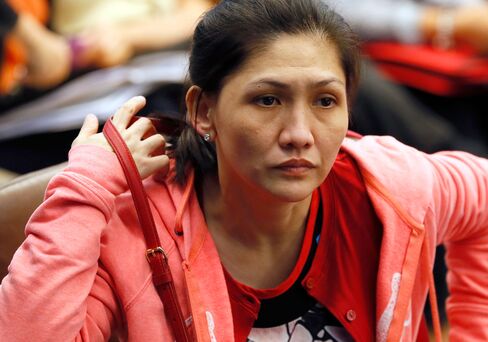 Philippine banker prepared to help government investigation

Rizal Bank manager `didn't get a penny' from the transfers
The Philippine bank manager accused of helping to launder $81 million stolen from Bangladesh's foreign reserves may turn state witness and aid the investigation into one of the largest bank heists in modern history.
Rizal Commercial Banking Corp. branch manager Maia Santos Deguito may seek protection under the Philippine government's Witness Protection Program "at the right time," her lawyer, Ferdinand Topacio, said in an interview on Friday.
"We invoked my client's right against self-incrimination very sparingly at the last Senate hearing because we want to help the government get to the bottom of this," Topacio said. "She isn't part of the grand conspiracy."
Investigators are seeking to track down hackers who attempted to steal almost $1 billion from Bangladesh's central bank in February. While authorities blocked most of the illicit transfers, $81 million ended up in Rizal Bank in the Philippines, wired to remittance company Philrem Service Corp. before being sent to casinos where the money trail has gone cold. Almost all of the $81 million is still missing.
Closed-Door Testimony
Central to the probe is Deguito, who's facing possible money-laundering charges after she allegedly allowed the funds to be withdrawn on Feb. 5 and Feb. 9 despite requests from Bangladesh to halt the transfers. The banker gave closed-door testimony on the case to senators on March 17, but has declined to discuss the transfers at previous public hearings to avoid incriminating herself. The Department of Justice is currently investigating whether there is enough evidence to charge Deguito with money laundering.
The country's Witness Protection, Security and Benefit Program encourages anyone who has witnessed or participated in a serious felony to testify before a court or investigating body free from the risk of legal reprisals. The government will drop criminal charges against those who become state witnesses, Topacio said.
Deguito told senators on April 5 that she was just ""a pawn in a high-stake chess game played by giants in international banking.''
Topacio said his client's testimony has been corroborated by Kim Wong, the casino junket operator who claimed to be an interpreter for two Chinese nationals linked to the stolen funds. Wong testified that he had introduced Deguito to some people who wanted to open bank accounts where the stolen funds were later deposited, Topacio said. Wong has denied any wrongdoing in the case.
Funds Returned
Wong has turned over $5.46 million to regulators since March 31, which he said he received from the two Chinese nationals. He has promised to return another 450 million pesos within the month that he received from one of the men as repayment of a debt.
Deguito's closed-door session with the senators helped the investigating committee connect the dots of the money laundering scheme, leading some lawmakers to call her a "credible witness," the lawyer said.
Topacio said that those behind the heist had compartmentalized various portions of the plan, meaning that his client didn't know that the accounts, opened in May 2015, would later receive stolen funds from Bangladesh.
"I was cynical at first when she said she didn't get a penny,"' Topacio said. "But she told me that as a banker who was earning 2 million pesos ($43,000) a year, she didn't need the money."
The lawyer said his client expects to earn 30 million pesos more in the next 15 years, an amount that would exclude profit-sharing and bonuses, adding that she said "I'm not the breadwinner and my husband is gainfully employed. Will I dare to bring shame to my family?"
Before it's here, it's on the Bloomberg Terminal.
LEARN MORE