Antofagasta Replaces CEO With Former Codelco CFO Arriagada
Appointment effective immediately and Hernandez to retire

Arriagada worked at Codelco, BHP before joining copper miner
Antofagasta Plc, the $6 billion copper miner controlled by Chile's richest family, replaced retiring industry veteran Diego Hernandez with a new chief executive officer as it attempts to weather the slump in metal prices by by cutting costs.
The appointment of Ivan Arriagada, 52, who has headed the company's Antofagasta Minerals unit since 2015, is effective immediately, the Santiago-based company said in a statement Friday. He's previously worked at Codelco as chief financial officer, at BHP Billiton Ltd. and spent almost 20 years with Royal Dutch Shell Plc. The new CEO led a "rigorous" cost-reduction program since joining Antofagasta, it said.
The miner was among the worst performers in the U.K.'s benchmark stock index last year, tumbling 38 percent. In March, the company scrapped its dividend after the rout in copper wiped out almost all of its profit last year. Falling commodity prices combined with bulging debt have hurt producers around the world, forcing them to cut jobs, dividends and investments to save money.
"We see the move as broadly positive, with no great change in strategy expected, but nonetheless an experienced and competent candidate for the role," Paul Gait, a mining analyst at Sanford C. Bernstein Ltd., wrote in a note.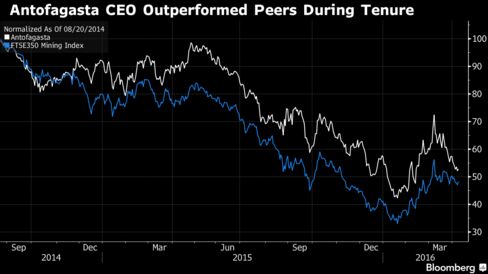 Antofagasta shares rose 1.6 percent to close at 433.7 pence in London. The stock slid last year as copper tumbled 25 percent, the most since the global financial crisis in 2008.
"The appointment of Ivan indicates the intent to control costs in a tougher copper price environment," John Meyer, an analyst at SP Angel Corporate Finance LLP in London, said by phone.
As CFO of Codelco, Arriagada led a team that reversed years of rising costs. He left the state-owned miner in November 2014, a year in which its production costs fell 8 percent. At Codelco, he also sold debt in euros for the first time to reduce the company's dependence on dollar funding as it embarked on a record spending program after decades of under-investment.
In an interview on Monday, Arriagada said he wouldn't rule out selling bonds if needed. Antofagasta doesn't have any outstanding bonds. He also signaled continued interest in acquisitions, though said the right opportunities are hard to find.
"We have a balance sheet which is solid enough," he said. "Were an opportunity to come, we would look at it."
Share Performance
The 67-year-old Hernandez, who had been CEO since 2014, will remain as an adviser to the board. Under his tenure, the stock fell 47 percent, outperforming the 52 percent drop in the FTSE 350 Mining Index that includes rivals BHP, Rio Tinto Group and Anglo American Plc.
Hernandez said last month that copper prices will probably be stable this year before contracting supply tightens the market from late 2017, spurring a rebound in prices. Demand for the metal is still growing unlike some other commodities, he said. The company paid Barrick Gold Corp. $1 billion for a 50 percent stake in the Zaldivar copper mine in Chile last year, a price that many deemed exorbitant at the time.
The company owns and operates copper mines in Chile, and conducts exploration activities in the country and Peru.
Before it's here, it's on the Bloomberg Terminal.
LEARN MORE