U.K. Bond Insurance Costs Soar Most as Brazil's Tumble: Chart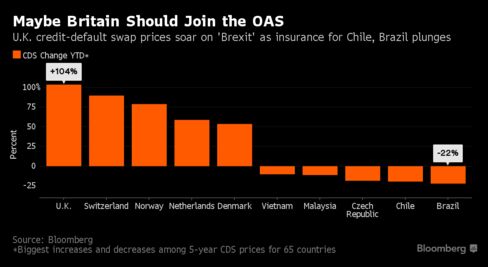 The cost of hedging the U.K.'s sovereign debt against losses has doubled this year, the biggest increase among 65 countries' monitored by Bloomberg, on concern that voters will opt to exit the European Union on June 23. Meanwhile, credit-default swaps for Organization of American States countries are mostly down amid a commodities rebound after debt-insurance costs skyrocketed in 2015. While contracts for Brazil have fallen the most worldwide this year, they're still 10 times more expensive than the U.K.'s.
Before it's here, it's on the Bloomberg Terminal.
LEARN MORE