Treasury Market Is Flashing Signals That Rally May Soon Be Over
Two-year note yield drops to lowest since Feb. 11 as RSI falls

Momentum may shift after `extreme buying,' BMO's Kohli says
Short-dated Treasuries may be poised to fall after investors pushed yields to the lowest in almost two months as the Federal Reserve signaled a cautious approach to raising interest rates.
U.S. debt advanced along with haven assets such as the yen and gold amid renewed concern that easy money central-bank policies haven't boosted global growth. The yield on the two-year note, the coupon security most sensitive to Fed policy expectations, fell to the lowest on a closing basis since Feb. 11 as a measure of the security's momentum known as relative strength approached a level considered a sign of stretched valuations.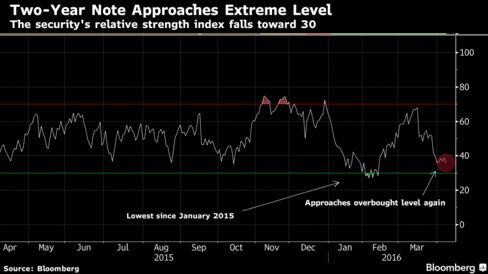 "When you've had a lot of buying, the risk is that you've reached a point of saturation," said Aaron Kohli, a fixed-income strategist at BMO Capital Markets in New York. "If markets are telling you you've reached a point of extreme buying, then momentum can turn after a while."
Treasury yields have tumbled since mid-March after Federal Open Market Committee members cited global risks as they voted to keep interest rates unchanged and scaled back forecasts for the pace of increases in 2016. Fed Chair Janet Yellen last week committed to "proceed cautiously'' with tightening monetary policy as traders have pared wagers on when and how often the central bank will act.
The yield on the two-year note fell four basis points, or 0.04 percentage point, to 0.69 percent as of 5 p.m. New York time. The price of the 0.875 percent security due March 2018 was 100 12/32.
The benchmark 10-year note yield fell seven basis points to 1.69 percent.
Bear Case

The two-year note yield could surge to 0.80 percent if momentum turns, Kohli said.
Jamie Dimon, chief executive officer of JPMorgan Chase & Co., said he's concerned demand for Treasuries will decline and the Fed will raise interest rates faster than people expect.
The market won't be able to rely on the biggest buyers of U.S. debt: the Fed, foreign nations and commercial banks, Dimon wrote in his annual letter to shareholders Wednesday. Increasing consumer and business confidence could boost demand for credit and reduce investor appetite for the haven of Treasuries, he said.
"These three buyers of U.S. Treasuries will not be there in the future," Dimon wrote. "If this scenario were to happen with interest rates on 10-year Treasuries on the rise, the result is unlikely to be as smooth as we all might hope for." JPMorgan is one of the 22 primary dealers that underwrite U.S. debt and trade with the Fed.
Fed Indications
Policy makers last month debated an April rate hike, with several officials leaning against such a move because it would send the wrong signal and others saying it might be warranted, according to minutes of the Fed's March 15-16 meeting released Wednesday in Washington.
Futures signal a 16 percent chance of a Fed move by its June meeting, compared with a 54 percent probability assigned March 15, the day before the Fed released its latest policy statement. The calculation assumes the effective fed funds rate will average 0.625 percent after the Fed's next increase.
Four past and present Fed leaders will share a stage Thursday when Yellen joins her predecessors Ben S. Bernanke, Alan Greenspan and Paul Volcker for a discussion hosted at the International House in New York at 5:30 p.m. The event marks the first time the four Fed chiefs have gathered for a joint public appearance.
Before it's here, it's on the Bloomberg Terminal.
LEARN MORE