Tech Stocks Too Hot to Hedge as Pre-Earnings Momentum Seized
Short interest close to a three-month low for technology ETF

Sector has rallied 15 percent since a low reached in February
Just because technology companies are about to disclose their biggest profit contraction in seven years doesn't mean investors are rushing to hedge their stocks.
Even with analysts estimating a 7 percent decline in earnings and the stocks up 16 percent to near a four-month high since mid-February, short interest in an exchange-traded fund tracking the technology group has tumbled and now sits close to the lowest level of 2016, according to data compiled by Bloomberg and Markit Ltd.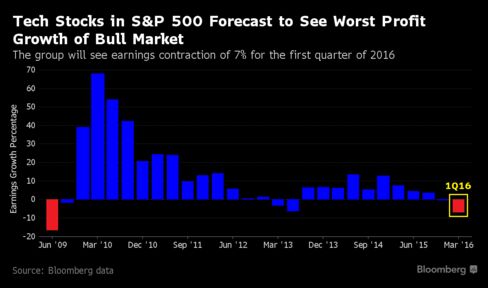 With Apple Inc., Facebook Inc. and Alphabet Inc. making up more than one-third of the Standard & Poor's 500 Index's technology group, the sector operates more at the whim of momentum traders than other industries, said Stephen Solaka of Belmont Capital Group.
"A lot of these tech names aren't always driven by fundamentals like current earnings," said Solaka, managing partner of Belmont in Los Angeles, which oversees about $450 million. "The tech trade is very momentum-driven, with fear at the bottom and not at the top. People are less apt to hedge after a big momentum rally."
Investors added $530 million into the SPDR Technology Select Sector ETF over a five-day span ending Monday, the second-biggest inflow since December 2014, as the fund rallied to its highest level of the year. The fund slid 1.4 percent at 4 p.m. in New York.
Momentum buying has seen a resurgence since the S&P 500 fell to a 22-month low on Feb. 11. The iShares MSCI USA Momentum Index Fund has rallied 13 percent since then, modestly outpacing the S&P 500. All but two stocks in the 68-member technology gauge have advanced over the period, with Qorvo Inc. and Hewlett Packard Enterprise Co. leading the way, up more than 44 percent.
The technology sector has seen similarly muted hedging before prior earnings seasons when the group's shares were also rising. Before the third-quarter 2015 period, the index gained 5.6 percent in the four weeks before Yahoo! Inc. reported on Oct. 20. Short interest as a percentage of shares outstanding fell almost a full percentage point over the same time, Bloomberg data show.
The S&P 500 technology index gained 5.5 percent over the next month, almost double the benchmark gauge. Alphabet and Facebook surged more than 10 percent in that time, while Apple climbed almost 5 percent.
Technology shares are reasonably priced, according to Bill Schultz of McQueen, Ball & Associates Inc. That's due largely to the heavy weighting of megacap companies like Apple and Google that have high growth potential even at their size, he said.
Even after its 16 percent rebound, the index's forward price-earnings ratio is only the sixth highest out of 10 S&P 500 groups. Profits are forecast to rise 5.4 percent for the full year 2016.
"When you talk about a company like Apple, it's hard to say they're overvalued, given their sales potential going forward," said Schultz, who oversees $1.2 billion as chief investment officer at McQueen, Ball in Bethlehem, Pennsylvania. "That probably puts a limit on how far down they can go on disappointing earnings or guidance, especially since the bar has been set so low."
Before it's here, it's on the Bloomberg Terminal.
LEARN MORE