Soaring Yen Spurs Option Hedging While Rally's Scope Doubted
Traders see just 20% chance of dollar below 105 yen in a month

Yen approaches 1 1/2-year high as intervention absent
Options traders are stepping up hedges against yen gains, while seeing limited scope for the currency to rally past 105 per dollar, a level some traders are calling a threshold for Japanese intervention.
Demand for protection against yen gains has picked up as the currency reached its strongest in almost 1 1/2 years this week, breaching 108 per dollar before trading at 108.56 Friday morning in New York. Japan's currency has risen about 11 percent this year amid global safe-haven demand, surging this week even as as a Ministry of Finance official said authorities will act as necessary.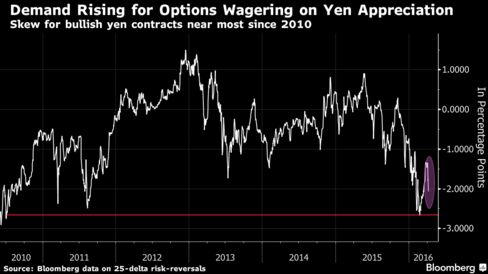 The so-called risk reversal rate for three-month options on the exchange rate reached negative 2.12 percentage points Friday -- where a negative level signals a bias for options that profit from yen strength. That level is approaching the almost six-year low for this skew, reached in February.
"The kind of price action we are seeing is one of those situations where the yen's move could run on quite a bit and you probably wouldn't mind paying up for some protection against that risk," said Shaun Osborne, chief foreign-exchange strategist at Bank of Nova Scotia in Toronto. "Japan is in a very difficult position because basically all the money in the world and negative interest rates hasn't really done a whole lot to weaken the yen."
Trigger Pondered
Traders are buying as the the Bank of Japan, which has cut interest rates below zero and increased debt purchases to spur economic growth, appears reluctant to intervene to reverse the move. The "line in the sand" to trigger intervention may be 105 yen per dollar, according to Bipan Rai, executive director of foreign-exchange strategy at Canadian Imperial Bank of Commerce in Toronto.
Options traders are eyeing that level too. The contracts imply roughly a 16 percent probability that the exchange rate will be below 105 yen in a month, data compiled by Bloomberg show.
For Osborne, given the recent flight to safety, it makes sense that traders are buying insurance against yen gains through options. Still, based partly on the bank's forecasts that the Federal Reserve will raise rates twice this year, he expects the yen to tumble anew.
It will weaken back to 112 per dollar by mid-year and to 118 by December, he predicted.
Before it's here, it's on the Bloomberg Terminal.
LEARN MORE