Directors reject proposal for personnel change, spokesman says

Loeb wants Seven & i to restructure or divest other retailers
Seven & i Holdings Co. directors voted down proposed personnel changes in a victory for activist investor Dan Loeb, who raised concern that its chief executive officer was trying to oust the head of the convenience-store unit making most of the group's profit.
The board rejected the proposals during a meeting Thursday, said Hirotake Henmi, a Seven & i spokesman, who declined to give details. The stock pared declines after slumping as much as 8.6 percent, the biggest intraday drop in five years. The shares traded down 5.6 percent at 4,306 yen as of 2:35 p.m. in Tokyo.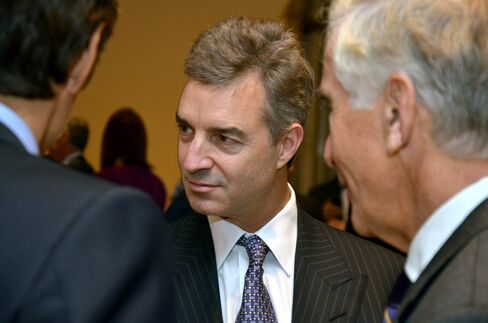 The board convened to discuss the removal of Seven-Eleven Japan President Ryuichi Isaka, people with knowledge of the matter said. Loeb, founder of Third Point LLC, said last week Isaka should be a leading candidate to take over Japan's largest retailer. The billionaire warned Seven & i against letting nepotism factor in succession planning involving Chief Executive Officer Toshifumi Suzuki, who he said was trying to position his son to succeed him.
The saga is one of the most high-profile efforts by foreign investors to force changes in corporate Japan since Loeb's Third Point offloaded its stake in Sony Corp. less than two years ago, after trying to convince the company to sell part of its entertainment unit. The drama is playing out as many Japanese companies fight back against attempts to overhaul corporate governance, and overseas investors are starting to question Japan Inc. efforts to become more capital efficient.
Drawing Attention
"Seven & i's management reshuffle is drawing more investors' attention at home and abroad," said Yasuhide Yajima, chief economist at NLI Research Institute in Tokyo. "They are keen to see how proposals were crafted and discussed at the board room, and even more keen to know how directors of the board eventually rejected the proposal in a bid to see if the company's corporate governance practice is working well."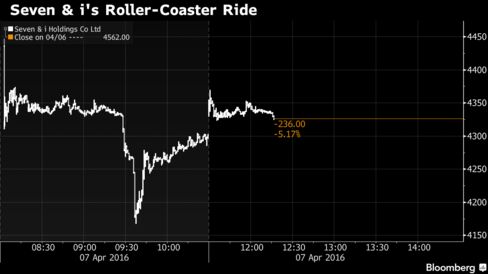 Seven and i is scheduled to hold a news conference to discuss full-year earnings after the close in Tokyo. Suzuki, the 83-year-old chairman and CEO, will attend a briefing at 4:30 p.m. local time, according to a statement.
It's unclear how lasting Loeb's victory will be. The Seven & i board plans to hold an extraordinary meeting to discuss personnel plans, the Nikkei reported Thursday. The company's 15 directors voted anonymously on a new management structure that included Isaka's replacement, the newspaper reported without attribution.
Seven-Eleven Profit
Seven & i has forecast results that help explain why Loeb has championed the Seven-Eleven Japan unit's performance, while pushing for the restructuring or divestment of other retailing divisions.
The convenience stores division probably had operating income of 310 billion yen ($2.8 billion) in the year ended Feb. 29, according to the average estimate of three analysts. That would be a 12 percent increase from a year earlier and compares with the company's own forecast in January of 302 billion yen, or 82 percent of total operating profit.
The company should focus on convenience stores, restructure its Ito-Yokado Co. unit and divest retailers including Sogo & Seibu and Barney's Japan, Loeb has said. Third Point didn't immediately respond to requests for comment Thursday.
"Loeb is probably right that Seven & i has been slow in forcing efficiency and marketing effectiveness in many of its companies and, ideally, it should address this with some urgency," Roy Larke, co-founder of Japanconsuming.com and a professor of Japanese business at Waikato University in New Zealand, said in an interview before the board meeting.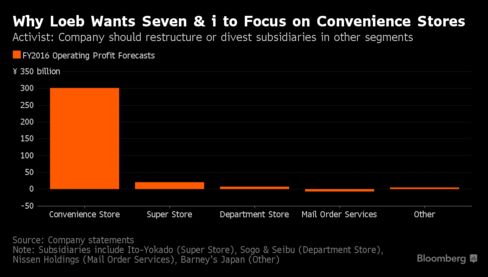 As Prime Minister Shinzo Abe attempts to make Japan Inc. overhaul corporate governance, more firms are complaining about investor questions on capital efficiency than those that welcomed them, a survey by the $1.3 trillion Government Pension Investment Fund published on Thursday showed. Some overseas money managers are losing faith in the revamp because they think executives aren't taking it seriously, Ryohei Yanagi, who wrote key parts of a government-backed blueprint, said in February.
Japanese companies still have one of the lowest rates of independent directors compared with Group of Seven peers, according to data compiled by Bloomberg. Seven & i has four outside members on its board.
The Seven & i board's decision to keep the management team overseeing Seven-Eleven Japan is positive, Makoto Sakurai, an analyst at Mitsubishi UFJ Morgan Stanley Securities Co., wrote in a note published Thursday.
"However, the vote against the proposal also has negative implications, suggesting possible shifts within the corporate hierarchy, as a number of directors would have had to vote against the move, even assuming that the four external directors all did," Sakurai wrote.
Before it's here, it's on the Bloomberg Terminal.
LEARN MORE