Russia Pushes for Karabakh Talks as Fragile Cease-Fire Holds
Azeris, Armenians agree truce must be kept, Medvedev says

Armenian president says peacekeepers may be part of solution
Russia pressed Azeris and Armenians to return to negotiations over the disputed Caucasus region of Nagorno-Karabakh as it sought to bolster a cease-fire that halted the worst fighting in two decades.
Talks with the leaders of Azerbaijan and Armenia showed that they "want to maintain the cease-fire to the utmost" and to try to resolve "all the tragic consequences of what happened recently at the negotiating table," Russian Prime Minister Dmitry Medvedev told reporters in the Azeri capital, Baku, on Friday. Russia's ready to shoulder its responsibilities and play an active role in "ensuring a smooth resolution process," he said.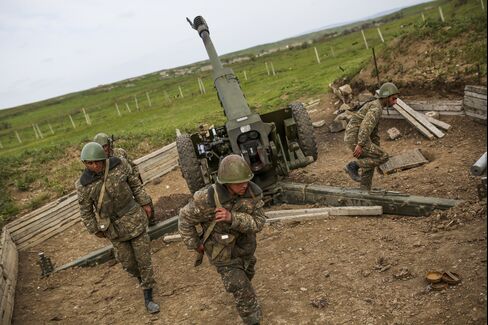 The situation in Nagorno-Karabakh is "extremely worrying" and there's no alternative to negotiations for ending the conflict over the Armenian-held enclave in Azerbaijan, Medvedev said, after talks with Azeri President Ilham Aliyev on Friday. Azerbaijan will "continue the negotiation process" for a resolution that must include "an end to the occupation of Azerbaijani territory," Aliyev said.
The cease-fire that took effect on Tuesday was thrashed out at Russian-mediated talks in Moscow between the Armenian and Azeri chiefs of general staff. It ended nearly five days of spiraling violence that killed scores of soldiers and civilians, the largest loss of life since a Russian-brokered truce 22 years ago. Armenian President Serzh Sargsyan warned on Monday that escalation in the conflict could trigger a "full-scale war," threatening to destabilize a region flanked by Russia, Turkey and Iran. Fighting between Armenia, a Russian ally, and Azerbaijan, which has stronger ties to NATO member Turkey, would also potentially disrupt a new energy corridor between central Asia and Europe.
Truce Violations
Medvedev traveled to Baku after meeting with Sargsyan in the Armenian capital, Yerevan, on Thursday to discuss the crisis. Armenia's seeking a "complete and final settlement" that could include the presence of peacekeepers between the two sides, Sargsyan said in an interview with Deutsche Welle.
Tensions remain high, even as the two sides reached agreement to allow the Red Cross to help on Friday with recovery of the bodies of troops who died in the clashes.
Two Armenian soldiers were killed overnight as the Azeri military violated the cease-fire with heavy-weapon and mortar fire, the Defense Ministry of the Nagorno-Karabakh Republic, which is not internationally recognized, said in a statement Friday.
Killed, Wounded
Armenians violated the truce 110 times in the past day, including with mortars, and the Azeri army fired 114 times in retaliation, the Defense Ministry in Baku said Friday on its website.
Nagorno-Karabakh said 38 Armenian servicemen have been killed, 21 are missing and 122 were wounded since the fighting broke out April 1, while 11 civilians also died. Azerbaijan said 31 of its servicemen and four civilians died in the clashes.
U.S., French, and Russian mediators from the Organization for Security and Cooperation in Europe will meet Sargsyan and Foreign Minister Eduard Nalbandyan in Yerevan on Saturday, the Armenian Foreign Ministry said on Twitter. The mediators traveled to Nagorno-Karabakh on Thursday, a day after they held talks with Aliyev.
'Political Settlement'
The conflict is "close" to settlement and Russia will "do everything" to move the peace process forward, Russian Foreign Minister Sergei Lavrov said Thursday in Baku after talks with his Azeri and Iranian counterparts. Confidence-building measures are needed in the conflict zone, though this "doesn't mean we should relax about finding a comprehensive political settlement," he said.
The status quo in Karabakh is unacceptable and unsustainable, and the conflict must be resolved sooner rather than later, Azeri Foreign Minister Elmar Mammadyarov said. Armenia needs to withdraw its troops from Azerbaijan's internationally recognized territory for confidence-building measures to start, he told reporters Thursday.
Azerbaijan is responsible for the escalation in the conflict and Armenia will continue to meet its obligations to ensure the security of the people of Nagorno-Karabakh, Armenian Prime Minister Hovik Abrahamyan said at talks with Medvedev on Thursday, according to the Interfax news service.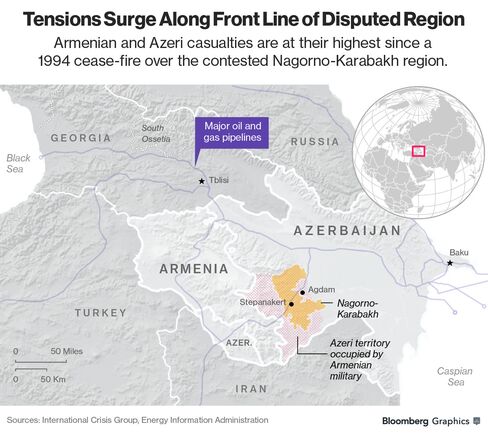 The conflict dates back to the dying days of the Soviet Union, when a dispute over the territory between Armenia and Azerbaijan flared into a war that killed 30,000 and created a million refugees. Armenians took over Nagorno-Karabakh and seven adjacent districts from Azerbaijan in the 1991-1994 conflict.
OSCE mediators have failed to negotiate a lasting peace since then. Armenia says the enclave's Christian Armenians, who declared independence from largely-Muslim Azerbaijan in 1991, have the right to self-determination. Azerbaijan demands respect for its territorial integrity.
Before it's here, it's on the Bloomberg Terminal.
LEARN MORE