Manhattan Renters Get Break After Two Years of Surging Costs
Monthly median fell 2.8% in March from year earlier to $3,300

Landlord concessions more than doubled as tenants pushed back
Manhattan apartment rents fell in March, the first annual decline in two years, in a sign housing costs have approached the limits of what tenants are willing to pay.
The median monthly rent was $3,300, down 2.8 percent from March 2015, according to a report Thursday by appraiser Miller Samuel Inc. and brokerage Douglas Elliman Real Estate. The vacancy rate rose to 2.42 percent, the highest for March in nine years of record-keeping by the firms. It was 1.99 percent a year earlier.
The cost of leasing an apartment in Manhattan has jumped more than 16 percent since the end of the recession in June 2009, bolstered by job growth that's drawn new residents, and a sales market so expensive that would-be homeowners are remaining renters for longer. Tenants, now growing more resistant to the relentless price increases, have been negotiating sweeter lease terms or moving to new luxury towers in Brooklyn and Queens that offer similar amenities for a lower monthly bill.
"The lack of affordability has hit a breaking point," Jonathan Miller, president of Miller Samuel, said in an interview. "Rents can't go up indefinitely when the wage growth is not there, so you get pushback."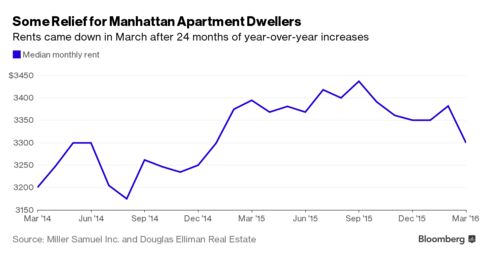 Manhattan landlords had to work harder to lure tenants last month, offering some kind of financial concession, such as a month's free rent, on 14 percent of all new leases. A year ago, only 4.8 percent of new rental contracts offered such sweeteners. The listing discount, or the amount landlords had to whittle from their asking rents to reach a deal, was 2.2 percent, compared with 0.8 percent in March 2015.
More Competition
Brokerage Citi Habitats, in its own report out Thursday, said landlords offered move-in incentives on 21 percent of leases arranged by the firm in the first three months of 2016, the highest share of any quarter in more than five years.
"The continued prevalence of concessions is indicative of a Manhattan rental market that faces more competition than ever before," Gary Malin, president of Citi Habitats, said in the report. "As a general rule, lowering rents is a landlord's last resort, so incentives remain in play to help some Manhattan buildings compete with their new outer-borough rivals."
Rents in Manhattan fell for apartments of almost all sizes and types last month, according to Miller Samuel and Douglas Elliman. One-bedroom costs slipped 1.1 percent from a year earlier to a median of $3,388, while three-bedroom rents dropped 7.3 percent to $5,558. Two-bedroom units had the only increase, to a median of $4,598, up just 0.1 percent.
Better Deals
The number of newly signed apartment leases fell 1.6 percent in March to 3,837, a sign that many landlords were offering their existing tenants favorable renewal terms to stay put, Miller said.
"The landlord's price at lease renewal did not turn away tenants like it had in the past," Miller said. "There's more of an agreement."
The turnaround comes after years of landlords having the upper hand, particularly when it came to smaller apartments, the most in-demand segment of the rental market. Median rents for studio apartments climbed 35 percent since June 2009, while costs for one-bedrooms jumped 26 percent, according to Miller.
"Tenants have finally reached their pain threshold," Malin said. "Manhattan is not the only game in town."
In Brooklyn, the median rent climbed 2.7 percent in March from a year earlier to $2,775, according to Miller Samuel and Douglas Elliman. New leases jumped 37 percent from a year earlier to 907 deals.
In northwest Queens, including the neighborhoods of Long Island City and Astoria, the median rent declined 5.2 percent from a year earlier to $2,799. New leases totaled 188, up 19 percent.
Before it's here, it's on the Bloomberg Terminal.
LEARN MORE