Danish Krone Hits Peg Crisis Level as Policy Warning Is Repeated
Krone has appreciated to the strongest level in a year

Rohde says he isn't concerned housing market will overheat
Lars Rohde, the governor of Denmark's central bank, said he's ready to crank up the printing press in order to handle a renewed wave of pressure on the currency peg after the krone strengthened to levels not seen since a speculative attack early last year.
The krone has appreciated in seven of the past eight trading days. On Thursday, one euro bought just 7.4403 kroner as the Danish currency headed for its strongest level since January last year.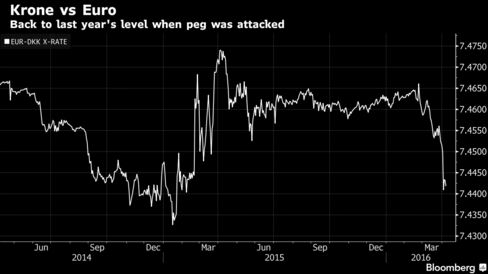 The Danish central bank is "ready whenever" the need should arise to print money and weaken the krone, Rohde told Bloomberg in response to questions in Copenhagen on Thursday. Policy makers are "always" prepared to act, he said.
The comments come as the European Central Bank underscores its willingness to ease monetary policy even further. President Mario Draghi says the ECB won't "surrender" to excessively low price growth, while the bank's chief economist, Peter Praet, says further stimulus would be provided if necessary. Those comments drove the euro lower.
The Danish central bank raised its benchmark deposit rate by 10 basis points to minus 0.65 percent in January as Rohde has tried to normalize policy. Denmark has had negative rates for the better part of almost four years, with most economists predicting rates won't go positive until at least 2018.
Hedge funds and other short-term investors hoarded Denmark's AAA-rated assets early last year amid conjecture the krone's peg to the euro wouldn't hold. Though the central bank prevailed at the time, it has continued to face pressure from pension funds in Denmark.
Danske Bank A/S is advising clients to build hedges on an assumption the krone will stay strong against the euro. The likelihood of Denmark cutting its main rate to minus 0.75 percent has increased recently, Jens Naervig Pedersen, a senior analyst at Danske, said in an April 4 note. "The pendulum has started to swing the other way for EUR/DKK," he said.
During 2015's peg attack, Denmark was forced to raise foreign reserves until they accounted for about 40 percent of gross domestic product. After the pressure eased, the central bank spent almost one year buying kroner to bring reserves back to normal levels.
Last month, the bank halted purchases and may soon be forced to do a U-turn, according to Nordea Bank AB.
"The bank has managed to establish a temporary equilibrium," Nordea Chief Analyst Jan Stoerup Nielsen said in a note earlier this week. But "if pressure for a stronger krone continues, the central bank will soon have to act again -– but this time by selling kroner."
Rohde said negative rates haven't hurt mortgage lending and, while an overheated housing market is a risk, the most recent data aren't alarming.
"We've seen gradually a slowdown in the price rise" over the past 12 months, he said. "We think that the situation is quite balanced in the housing market right now."
Before it's here, it's on the Bloomberg Terminal.
LEARN MORE