Superbull Sano Says Japan 10-Year Yield Last to Go Sub-Zero
Tokai Tokyo's Sano sees 20-year yield at 0.1% to 0.75%

Superlongs to remain positive-yield `battlefield:' Sano
Even Japan bond superbull Kazuhiko Sano, the strategist who made three daring yet accurate projections as the 10-year yield plunged toward zero, sees limits to the rally in superlong debt.
The yield on 20-year government bonds will hold in a 0.1 percent to 0.75 percent range this fiscal year as domestic institutional investors such as pension funds aim for positive yields, Sano, chief bond strategist at Tokai Tokyo Securities Co., said in an April 5 interview. Foreign investors and brokerages are unlikely to use such long-maturity debt as they seek profits buying and selling between the Bank of Japan and using currency swaps, he said.
"Superlong JGBs are the battlefield for investors looking for positive rates," said Sano, who has been a bond analyst since 1988 and joined Tokai Tokyo in 2010 after working for Citigroup Inc. "The pressure to push yields below zero is weaker on these maturities than for the rest. I wouldn't completely rule out the possibility of 20-year yields falling into negative, but it won't be sustainable."
Freezing Market
Yields on 70 percent of all Japanese government bonds have fallen below zero since the BOJ implemented its negative rate policy in February and there's a risk the world's second-biggest debt market will seize up if longer-term investors can't find positive returns. Central bank Governor Haruhiko Kuroda said on Tuesday benchmark rates can be cut further if needed, with inflation far below his 2 percent target.
While the benchmark 10-year yield reached a record low of minus 0.135 percent on March 18 and is still below zero, it's possible to make money trading the debt. Tuesday's sale of the debt drew the strongest demand since August 2014, as brokers bought bonds they will eventually sell at a profit to the BOJ. Foreign investors can use swap markets to turn negative yielding debt into attractive assets.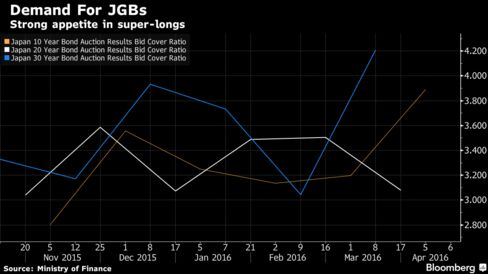 Strong demand in the super-long zone may lead to the BOJ failing to get the amount it seeks to buy at its operation for maturities of 10 years to 25 years by September, Sano said. At a session last month, the central bank excluded bid yields which were significantly below the average accepted level at one commercial paper operation and another to buy JGBs with repurchase agreement.
"I wouldn't be surprised if that happened with JGB operations in the first half of the year for the superlong zones," Sano said. "The BOJ isn't going to buy at any level. It's natural that the bank sets a limit where it shuns, in order to sustain its market operations."
BOJ's Limit
The central bank will run up against the limits of bond purchases by mid-next year, making the negative interest rate the BOJ's key tool for monetary policy, former BOJ Deputy Governor Kazumasa Iwata said in a Bloomberg interview this week.
Sano began his run of accurate projections when the 10-year yield was closer to 1 percent in 2012, forecasting it would drop to 0.5 percent in 2013, 0.25 percent by March 2015 and to 0.1 percent in the first quarter of 2016.
He expects the 10-year yield to range in a minus 0.25 percent to 0.25 percent range, extending the lower end from minus 0.2 percent in his previous forecast. It was minus 0.06 percent on Thursday. The 20-year yield was 0.36 percent.
With global disinflationary pressures keeping yields low in Japan and even in the U.S., where the pace of interest-rate increases by the Federal Reserve is likely to be slow, the yen could briefly strengthen beyond 100 to the dollar this fiscal year, Sano said. He forecasts the yen at around 105 at year-end. It reached a 17-month high of 108.87 in early London trading Thursday. In this environment, life insurers will find it hard to add further foreign bond investments to their portfolio in the fiscal year started April 1, reinforcing demand for superlong JGBs, Sano said.
"It's doubtful if they can actually boost foreign bonds from here after buying until last year," Sano said. "I don't think they can buy foreign bonds as there is an issue with dollar funding costs."
Before it's here, it's on the Bloomberg Terminal.
LEARN MORE