Morgan Stanley: People Might Be Worried About Subprime Auto Bonds Because of the 'Big Short' Movie
Motivating investors to "investigate any potential source of weakness."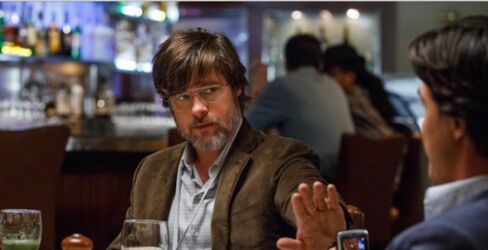 Blame Brad Pitt?
Auto loans made to risky borrowers and then bundled into bonds sold to investors have been making headlines for years, with some voicing concerns over an apparent resemblance between the so-called subprime auto market and the subprime housing market that sparked the 2008 financial crisis and ensuing recession.

Indeed, the parallels may not have been lost on investors either. In a note published on Wednesday, Morgan Stanley analysts led by Jeen Ng wonder whether last year's debut of The Big Short—the film version of the Michael Lewis book published in 2010—has played a role in sparking fresh worries over the asset class.
Here are the analysts:
"However, concerns about growing recessionary risks – and perhaps even the popularity of the recent movie The Big Short – have motivated investors to investigate any potential source of weakness. Consumer sectors that involve large initial outlays, such as housing and autos, provide a natural place to start. Combine that with recent headlines from Fitch suggesting that delinquencies in some sectors of the auto ABS market have reached 20- year highs, and you get a target sector for investors' concerns.

Those concerns are not without merit, at least as far as delinquencies are concerned. It is interesting to highlight that as the housing market continues to heal from its post-crisis depths, mortgage delinquencies have been on a steady decline while auto delinquencies have been going in the opposite direction."


Source: Morgan Stanley

Why the rising delinquencies on car loans and lower ones on mortgages? Morgan Stanley has some thoughts.

For a start the availability of home loan credit has shrunk massively in the aftermath of a financial crisis which not only significantly dented investors' demand for residential mortgage-related assets but also ushered in a whole host of new rules that have likely limited many Americans' ability to get home loans.

In the meantime, lending standards on car loans eased dramatically as a host of new companies cropped up to serve riskier would-be car owners and simultaneously give investors the higher-yielding assets they hankered for during a period of ultra-low interest rates.

However, with a few notable exceptions, Morgan Stanley sees little chance of subprime auto asset-backed securities (ABS) becoming the new subprime mortgage bonds per se. Investors have been well compensated for buying such deals in terms of the extra cushion of protection embedded in such securitizations, they argue:
Barring SKOP 2015-2, we do not see the bonds at risk of taking any principal losses over time even after applying a very stringent set of assumptions. In anticipation of worse collateral quality, the current credit structure of these auto deals remains fairly resilient. Even applying an additional 15 percent severity to current levels, we would still need to have another 5 percent to 15 percent spike in CDRs [constant default rates] for most subprime deals to take their first principal write-down. For prime autos, we would need to have another 3-6 percent increase in CDRs for the junior tranches to take principal losses. We are not saying it is impossible, but their likelihood seems low, in our view.
Of course, a Big Short character might have very different opinions.
Before it's here, it's on the Bloomberg Terminal.
LEARN MORE