Loeb's Champion Behind 7-Eleven Profit Said to Face Removal
Owner said to plan replacing president of chain's Japan unit

Third Point's Loeb warned against nepotism in CEO succession
Seven-Eleven convenience shops are set to announce their best results on record, and depending on the outcome of a crucial meeting Thursday, the man credited with helping the retailer get there may not be around much longer. Owner Seven & i Holdings Co. plunged the most in five years in Tokyo.
Board members of Seven & i plan to discuss removing Seven-Eleven Japan Co. President Ryuichi Isaka, according to two people with knowledge of the matter. It would be a snub for activist investor Dan Loeb, who said the executive should be a leading candidate to take over the group and warned Seven & i against nepotism by letting Chief Executive Officer Toshifumi Suzuki anoint his son as successor.
The saga is one of the most high-profile efforts by foreign investors to force changes in corporate Japan since Loeb's Third Point LLC offloaded its stake in Sony Corp. less than two years ago, after trying to convince the company to sell part of its entertainment unit. Overseas investors are starting to question Japan Inc.'s efforts to becoming more capital efficient, an academic who penned key parts of the government-backed blueprint for corporate governance overhaul wrote last month, citing his survey of investors.
"Loeb is probably right that Seven & i has been slow in forcing efficiency and marketing effectiveness in many of its companies and, ideally, it should address this with some urgency," Roy Larke, co-founder of Japanconsuming.com and a professor of Japanese business at Waikato University in New Zealand, said in an interview.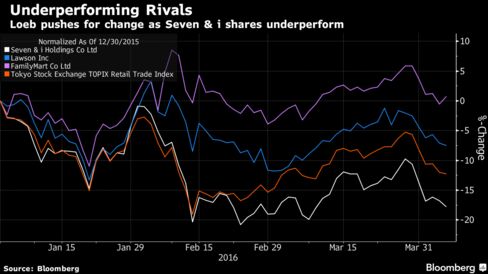 On Thursday, Seven & i dropped as much as 8.6 percent in Tokyo trading, the biggest intraday slump since March 2011. The company has lagged its convenience-store competitors this year, falling 18 percent through Wednesday compared with Lawson Inc.'s 7.5 percent drop and FamilyMart Co.'s 0.7 percent increase. The Topix Retail Trade Index fell 12 percent in the period.
Japan Inc. has a long history of resisting activists dating back to auto-parts supplier Koito Manufacturing Co.'s pushback against Texas oilman T. Boone Pickens in the early 1990s. Other clashes included failures by Warren Lichtenstein's Steel Partners Holdings LP to control condiments maker Bull-Dog Sauce Co. and brewer Sapporo Holdings Ltd.
In a letter dated March 27, New York-based Loeb raised concerns about Suzuki's health and warned Seven & i against letting the 83-year-old name his son Yasuhiro Suzuki as head of Seven‐Eleven Japan and eventually president of Seven & i. Loeb also wants Seven & i to restructure its Ito-Yokado Co. general-merchandise unit and divest retailers Sogo & Seibu, Barney's Japan, and Nissen Holdings Co.
Interim President
The proposals for executive changes must be voted on by Seven & i's 15-member board. Kazuki Furuya, a Seven-Eleven Japan managing executive, may become interim president of Seven-Eleven as part of Toshifumi Suzuki's plans to make Yasuhiro Suzuki the next president of the company, Loeb wrote.
Seven & i's convenience stores operations probably had operating income of 310 billion yen ($2.8 billion) in the year ended Feb. 29, according to the average estimate of three analysts. That would be a 12 percent increase from a year earlier and compares with the company's own forecast in January of 302 billion yen. The retailer is scheduled to report earnings after the close of trading in Tokyo Thursday.
A Seven & i representative said that "nothing has been decided" when asked about potential leadership changes.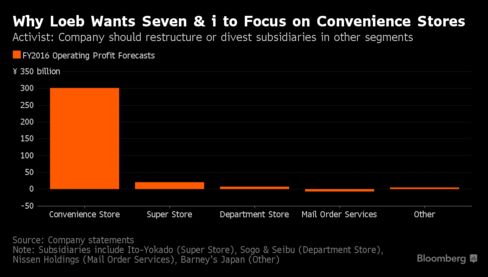 Seven-Eleven had a network of 27,059 subsidiary convenience stores around the world as of end of November, including 18,242 in Japan and 7,947 in the U.S., and a further 30,417 area licensees including in South Korea, Southeast Asia and Europe as of end-September. It's been beating McDonald's Corp. at feeding customers in its home country, and its wide range of hot meals make it Japan's largest fast food chain by sales.
Seven & i's other businesses are much smaller. The company forecast full-year operating income of 50 billion yen at its financial services operations, which runs Seven Bank, and 20.6 billion yen at the superstore operations, its next two largest divisions by earnings.
"We think the company needs to optimize business further," Nomura Holdings Inc. analyst Masafumi Shoda wrote in a note this month. "We see many challenges and do not expect them to be addressed right away, but we think it is important that the company continues structural reforms to boost the group's corporate value."
Before it's here, it's on the Bloomberg Terminal.
LEARN MORE