Hedge Funds With Billions at Stake Face Pirate Rules in Iceland
Pirate Party would be biggest in parliament in snap election

Iceland still needs to get through $2.4 billion in FX sales
With Iceland's government at the brink since losing a prime minister this week, it's worth looking to the polls to see who would win an election.
Enter the Pirate Party. The group is backed by 43 percent of voters, making it by far the largest political group in Iceland, according to the most recent poll.
In an age of political disruption, where Donald Trump is closing in on the Republican Party nomination and a former communist rules Greece, the Pirate Party may well end up with the most spectacular success of all. Victory in a snap election would bring to power a party that wants to separate commercial and investment banking. It says most decisions will be made by consulting voters directly, with some members suggesting Internet referenda on policy proposals. The party, which doesn't have a designated leader, has only existed since 2012 and has no experience in government.
Meanwhile, Iceland is trying to navigate its way through the final stages of removing capital controls, with $2.4 billion in currency exchange auctions set to take place by mid-year. The transactions will allow offshore investors, mostly hedge funds, to cash in on Glacier bonds issued during Iceland's economic boom years. When the bust came in 2008, such assets were put in limbo by currency restrictions.
Asta Gudrun Helgadottir, a 26-year-old observing member of the economic committee of the Pirate Party, says the group doesn't have an "official policy" on removing capital controls. The only standpoint is that it needs to be done in "a realistic manner," she said in an interview.
"We don't object to it, but it's a question of how well the removal of capital controls has been done in other countries, historically speaking," she said. "Is it possible to remove controls without f**king everything up? I mean, I don't know."
Bond markets show that investors are starting to get nervous. The yield on Iceland's 2025 note has risen 22 basis points this week to 6.10 percent on Wednesday, almost a two-month high.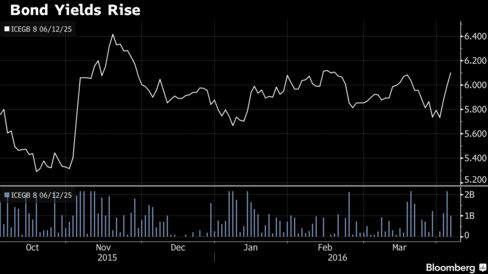 But hedge funds can take some comfort in the fact that total anarchy isn't an agenda point for the Pirate Party.
"I find it unlikely that we'll take the work that's been carried out and turn it upside down, just to create a revolution," Helgadottir said. "I think it's much more likely that we'll try to understand what's going on and evaluate the position based on that. We may delay some things, if need be."
The currency auctions "are to a large extent in the hands of the central bank and we just have to trust it, if that makes sense," she said.
But then again, it's hard to say what will happen.
"I can't speak on the behalf of all Pirates," Helgadottir said. "There are probably some that want to turn everything around."
For now, Iceland Finance Minister Bjarni Benediktsson has promised to stick to a plan forged with the central bank to exit capital controls. The question is whether he can remain in office. Protesters gathered outside parliament this week carrying signs demanding Benediktsson's resignation after his name also figured in leaks on offshore accounts.
The ruling coalition late on Wednesday named Sigurdur Ingi Johannsson, the former agriculture minister, as prime minister to replace Gunnlaugsson. Elections will probably take place in the fall, the coalition said late on Wednesday.
The opposition has said it will move ahead with a no-confidence motion, with a vote due on Thursday. That may now be delayed on a technicality, according to the speaker of parliament. If the current coalition holds, it will still have about two-thirds of the 63 seats in Iceland's parliament, enough to defeat a no confidence vote.
Before it's here, it's on the Bloomberg Terminal.
LEARN MORE