Ex-Barclays Trader Used Greek Bar as Libor-Fixing Lure, SFO Says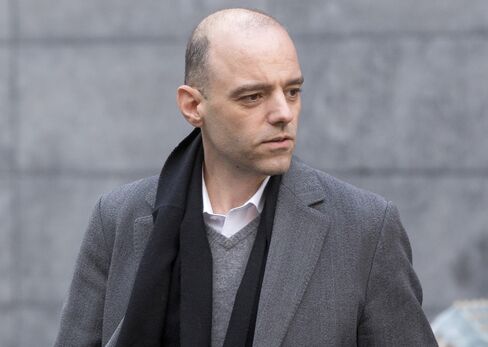 Five ex-Barclays traders on trial for conspiracy to defraud

170 requests made to change libor rate over two years: SFO
One of five former Barclays Plc traders accused of rigging benchmark interest rates extended an open invitation to his bar on a Greek island and offered a glowing mention in his memoirs in exchange for help keeping Libor where he wanted it, U.K. fraud prosecutors said at a London trial.
"When I quit this business and write a book about it all, I will write good things about you, he-he," Stylianos Contogoulas said in a January 2006 message to co-conspirator Peter Johnson that was read out by a lawyer for Britain's Serious Fraud Office.
Jonathan Mathew, 35, Contogoulas, 44, Jay Merchant, 45, Alex Pabon, 37, and Ryan Reich, 34, all deny the charges of conspiracy to defraud with other Barclays employees between June 1, 2005 and August 31, 2007. The group of five traders are accused of "cheating" the system by doing something "they must have known was dishonest," prosecutors said.
There were 170 requests to change the rate during the indictment period, lawyers for the prosecution said. The men urged each other to move the rate to suit their daily needs. "Our desk has a big position," one of the messages reads. "We are very much in a favor of a crazy low setting."
Asking for 'Help'
In March 2006 Contogoulas urged Johnson, who is not a defendant in the trial, to change the rate, asking for "help."
"Remember when I retire and a write a book about this business, your name will be written in golden letters," Contogoulas added. "You will have an open invitation to my bar in the Greek islands."
According to the e-mail exchange read out in court, Johnson responded that he "would prefer this not to be in any book!"
"There cannot have been any doubt, at that stage, about whether Mr. Johnson wanted any of this in the public domain," SFO lawyer James Hines said.
Barclays was the first bank to be fined in relation to Libor, paying a 290 million-pound ($408 million) penalty in June 2012 -- a step that led to the departure of Bob Diamond, the lender's chief executive officer. Since then, global regulators and prosecutors have racked up about $9 billion in fines from a dozen banks in relation to the manipulation of interest-rate benchmarks. Libor, the London interbank offered rate, underpins more than $350 trillion of securities around the world.
'Driven by Money'
"This case is about employees of Barclays bank rigging, for their own advantage, what is in fact a global benchmark interest rate," Hines said. "In doing so they were driven by money to make more profit on their trading."
The highest paid of the five defendants during the two years was Merchant. He worked in London and the U.S., earning 2.2 million pounds in 2007 in salary and bonus. In contrast, Mathew earned 280,750 pounds in the same year employed as one of the two U.S. dollar libor rate setters in London.
"These men were trusted by Barclays bank to trade in deals worth billions of dollars," Hines said "There are some occasions where the defendants will refer to deals involving eye-watering sums of money."
Before it's here, it's on the Bloomberg Terminal.
LEARN MORE