U.K. Bond Demand Highest Since 2013 in First Sale Since Revamp
Bid-to-cover ratio climbs to 2.01, most since December 2013

Nation sells 2.75 billion pounds of 2021 bonds Tuesday
Demand for U.K. government five-year bonds rose to the highest since 2013 in the first sale since the debt office's revamp of issuance came into effect.
Gilts gained, within the 10-year yield falling to the lowest in more than a month, even as the nation sold 2.75 billion pounds ($3.9 billion) of 2021 bonds. Investors bid 2.01 times the targeted amount and the debt was sold with an average yield of 0.801 percent. The U.K. Debt Management Office announced last month a slew of changes designed to increase its flexibility in issuing bonds at a time when demand has declined and the chief executive officer, Robert Stheeman, said an uncovered auction was possible.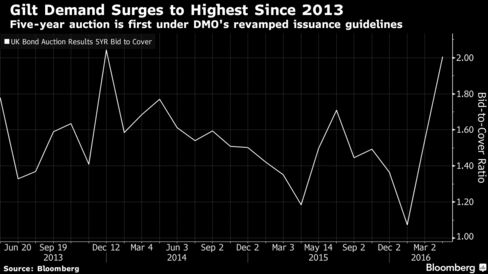 The U.K. previously sold 3.5 billion pounds of 2021 bonds at an average yield of 0.86 percent on March 2. The bid-to-cover ratio was 1.54.
Tuesday's sale produced "an impressive result, especially given we have been rallying strongly this morning," said Daniela Russell, a portfolio construction associate at Legal & General Group Plc in London. "There was particularly high attention on this auction since it was the first since the changes. So it's important that there was such a strong result. The fact the bond came close to market is particularly positive."
Bid-to-Cover
At an auction of five-year gilts in January, the bid-to-cover ratio was 1.07, the lowest since a 2009 sale of 40-year securities that missed its sales target. The gilt market has faced increasing challenges as market makers contend with regulations that constrain the use of their balance sheets. Two gilt primary dealers resigned in the last year and others have said that it's becoming increasingly difficult to sell the securities as new rules increase costs and make banks less willing to risk their own capital.
The changes to the 2016-17 remit include smaller auctions, greater flexibility to sell bonds via banks and the introduction of gilt tenders. The DMO has also requested that primary dealers increase the amount of securities they bid for at auction to a rolling six-month average of 5 percent to ensure smooth sales.
The 10-year gilt yield fell five basis points, or 0.05 percentage point, to 1.38 percent as of the 5 p.m. London close, after touching 1.34 percent, the lowest since March 1. The 2 percent security due in September 2025 rose 0.48, or 4.80 pounds per 1,000-pound face amount, to 105.50.
Before it's here, it's on the Bloomberg Terminal.
LEARN MORE