Turkey's SunExpress Redeploys Fleet as Terror Spree Hurts Demand
Lufthansa-THY venture sends five aircraft to serve western Med

Three jets to be used on Turkish routes as tourists stay away
Six months of terror attacks have prompted Turkish leisure airline SunExpress to move eight planes off their usual routes carrying tourists to the country from northern Europe as demand slumps.
SunExpress -- jointly owned by Turkish Airlines and Deutsche Lufthansa AG -- has begun flying five Boeing Co. 737s from Germany to still-buoyant holiday destinations in Spain and Portugal on behalf of tour operators such as TUI AG, Chief Executive Officer Jaan Albrecht said in an interview.
The carrier, based at the tourist gateway of Antalya, will also lease two planes to sister company AnadoluJet, the low-cost unit of Turkish Air, and use a third for domestic flights. Demand for travel within Turkey and for visits from Turks living abroad has been largely unaffected by the atrocities, Albrecht said.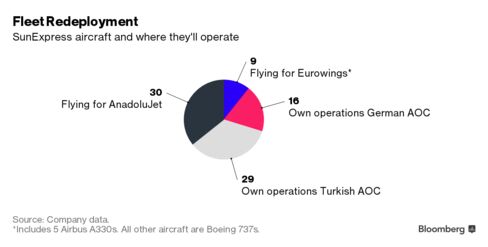 "It's not a pleasant situation," said Albrecht, who took over as CEO 10 months ago after running Lufthansa's Austrian arm, the Star Alliance and AeroPeru. "But we have a lot of possibilities to swap aircraft within the company."
SunExpress, for which Egypt is another top market, will also be providing crews for five long-haul Airbus Group SE A330s at Lufthansa's Eurowings discount arm by the year end, as the German carrier seeks to cut group-wide costs.
That arrangement is being extended to short-haul Eurowings flights using SunExpress's own planes, with the Turkish airline set to operate four 737s from Dusseldorf on behalf of the German business by the end of 2015.
SunExpress has also reined in capacity by halting a deal to operate four planes sourced from Brazil's Gol Linhas Aereas Inteligentes SA, where they're not needed in the southern winter. At the same time it has begun flying from Turkey to Iran on a charter basis, tapping a growth market, Albrecht said.
The redeployment plan means SunExpress will have 25 planes on its German operating certificate and 59 in Turkey. The carrier will receive seven 737-800s this year from an order for 60 that includes 35 re-engined Max jets due for delivery starting in 2017, and aims to have a 100-strong fleet by 2020.
Before it's here, it's on the Bloomberg Terminal.
LEARN MORE