Treasuries Are Rallying and Company Bonds Are Doing Even Better
Treasuries gain 3.2% in 2016, while corporate bonds rise 5.2%

Fed will raise interest rates in December, futures indicate
Treasuries are rallying in 2016 and corporate bonds are delivering even more as investors push back bets for when the Federal Reserve will raise interest rates as the central bank waits for the U.S. economy to pick up.
U.S. government securities have returned 3.2 percent this year while investment-grade company debt around the world has surged 5.2 percent, based on Bloomberg World Bond Indexes. High-yield bonds, the riskiest part of the fixed-income market, have gained 4.2 percent.
The Fed won't move until December, futures contracts indicate, while a month ago, they implied an increase in September. BlackRock Inc. says policy makers are letting the economy "run hotter" before acting. The outlook for growth along with signs of stability in crude oil and stocks after a rout earlier this year are driving demand for higher-yielding assets outside the government bond market.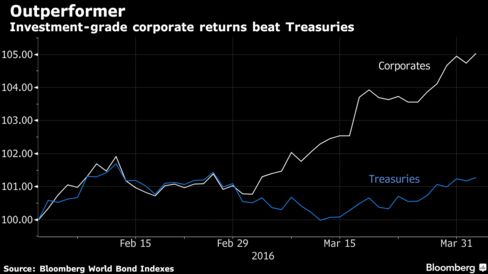 "Downward pressure on yields is continuing," said Yusuke Ito, a senior investor in Tokyo for Mizuho Asset Management, which oversees about $45.1 billion. "For April, for sure there's no rate hike. Turmoil in the global financial markets has stabilized. The corporate bond market has stabilized."
The Treasury 10-year note yield fell one basis point to 1.75 percent as of 6:57 a.m. in London, based on Bloomberg Bond Trader data. The price of the 1.625 percent security due in February 2026 rose 3/32, or 94 cents per $1,000 face amount, to 98 27/32.
U.S. policy makers opted against raising rates at their March meeting, citing risks from the global economy. "The Fed made a decision that will let inflation run hotter, that will let employment run hotter," Rick Rieder, chief investment officer of global fixed income at New York-based BlackRock, said following the session.
Minneapolis Fed President Neel Kashkari said Monday the central bank should let the job market grow with the inflation rate under 2 percent. The annual change in the Commerce Department's price index tied to personal spending, one of the gauges Fed officials watch, has been below the central bank's 2 percent target since 2012.
Spread Narrows
Investment-grade corporate bonds yield 147 basis points more than Treasuries, the smallest amount this year, the Bloomberg indexes show. The spread has narrowed from 189 basis points in February as investors snapped up company debt.
The "corporate earnings season will likely be a key event risk for credit markets in coming weeks, as it remains to be seen if volatile financial conditions have weighed on profitability," analysts at JPMorgan Chase & Co. wrote in a report April 1.
"We remain overweight high grade corporates in our model portfolio but are more cautious on high yield, which remains sensitive to retail flows and volatility in energy prices," wrote JPMorgan's Alex Roever, Kimberly L. Harano and Bruce Sun. The New York-based firm is one of the 22 primary dealers that trade directly with the Fed.
Crude oil has climbed 36 percent from a 12-year low set in February, while the MSCI All Country World Index of shares gained 7.2 percent in March, its first monthly increase since October.
Before it's here, it's on the Bloomberg Terminal.
LEARN MORE