No Panic Selling Yet as Japan Stocks Approach 2016 Low: Chart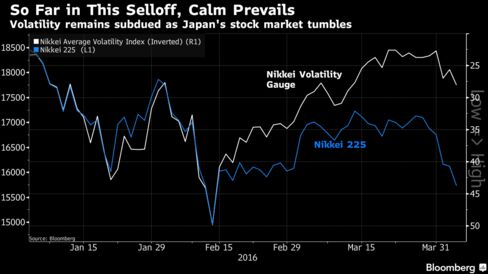 Investors so far don't appear too worried about the latest declines in Japanese stocks, even as the Nikkei 225 Stock Average approaches a February low. The gap between the benchmark gauge and a measure of volatility is much wider this time compared with the selloff earlier this year (the chart for the latter index has been inverted for easier comparison). When the Nikkei 225 sank to an 18-month low on Feb. 12, volatility surged to the highest since the 2011 Fukushima nuclear meltdown, while it has remained relatively subdued this week.
Before it's here, it's on the Bloomberg Terminal.
LEARN MORE