Mortgage-Backed Securities Coupon Spread Tightens on Fed: Chart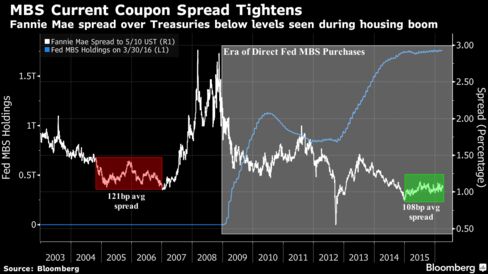 The Federal Reserve's purchases of agency mortgage-backed securities pushed the Fannie Mae 30-year current-coupon spread over a blend of 5-year and 10-year Treasury notes to its tightest level ever in 2012. The resulting effect of the Fed's massive holdings persists: From the end of 2014 to March 2016 the average spread on the Fannie Mae 30-year current coupon was 108 basis points, below even the 121-basis point average seen during the housing speculative mania's last years in 2005 and 2006. Federal Reserve Chair Janet Yellen is hinting there could be more purchases in the future.
Before it's here, it's on the Bloomberg Terminal.
LEARN MORE